This is an archived article and the information in the article may be outdated. Please look at the time stamp on the story to see when it was last updated.
A toddler died after being struck by a car in the Central-Alameda neighborhood of South L.A. on Monday morning, in what one police official described as a "tragic accident."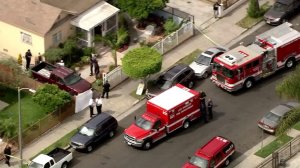 The 24-year-old man was driving his 1997 Ford F-150 out of the front driveway in the 1100 block of East 49th Street just before 10 a.m. when he struck the young boy, according to a Los Angeles Police Department news release.
The uncle told police he drove a few feet in the driveway when "he felt an impact," the release stated. He immediately came to a stop, got out of his truck and found his nephew had been hit by the truck's right front wheel.
The little boy was pronounced dead at the scene by Los Angeles Fire Department paramedics.
His name has not yet been released.
Family members last saw the toddler playing in the home's backyard a short time before the fatal collision, according to police. It was not known how he got into the driveway.
In an interview with the Los Angeles Times, LAPD Officer Liliana Preciado called the incident a "tragic accident."
LAPD's Central Traffic Division is investigating the crash.
KTLA's Jennifer Thang contributed to this story.