This is an archived article and the information in the article may be outdated. Please look at the time stamp on the story to see when it was last updated.
A large branch fell from a tree at a daycare-type center in Pasadena, critically injuring a 2-year-old girl and wounding two other toddlers on Tuesday, according to fire officials.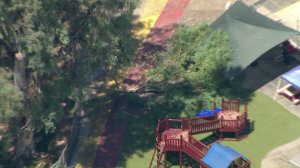 The incident occurred in the 1200 block of Linda Vista Avenue, at Linda Vista Children's Center, Lisa Derderian of the Pasadena Fire Department told KTLA shortly after noon. She described the facility as a private daycare-type place on city-owned property.
The branch appeared to have fallen near an outdoor play area at the center, Sky5 aerial video over the scene showed.
Three toddlers were apparently struck by it, including a 2-year-old girl who was rushed to a hospital by ambulance in critical condition, Derderian said.
The other two also received minor injuries and were transported as well, she added.
Aerial video over the hospital showed two young children being taken out of an ambulance and reunited with their parent or caregiver before heading into the building for treatment. Holding hands with an adult, both were able to walk into the medical center on their own.
It was unclear what caused the branch to fall; the incident is under investigation.
KTLA's Jennifer Thang contributed to this story.