This is an archived article and the information in the article may be outdated. Please look at the time stamp on the story to see when it was last updated.
An Apple Valley father apparently shot his 2-year-old daughter late Wednesday night when his gun discharged in what investigators described as a cleaning accident.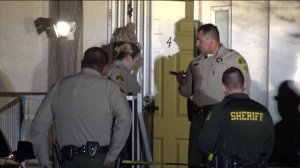 Deputies responded to the 16100 block of Viho Road just before 11:30 p.m. on a report of an accidental shooting, according to San Bernardino County Sheriff's Department spokeswoman Jodi Miller.
Inside the home, authorities found the 2-year-old girl suffering from a gunshot wound.
The unidentified girl was taken by emergency personnel to a local hospital and then flown to a trauma center, Miller said.
The girl's condition was not immediately disclosed, but Miller later said she was in stable condition.
Investigators believe the girl's father was downstairs cleaning a gun when it was negligently discharged and struck the girl in an upstairs bedroom.
No arrests were made immediately following the shooting, but the parents are being interviewed by detectives and the Department of Children and Family Services, Miller said.