This is an archived article and the information in the article may be outdated. Please look at the time stamp on the story to see when it was last updated.
A driver and his passenger were critically injured in a violent head-on crash with a big rig in Santa Ana on Monday afternoon, authorities said.
The collision took place in the area of Harbor Boulevard and McFadden Avenue around 12:30 p.m., according to Santa Ana Police Department Cpl. Anthony Bertagna.
A driver headed westbound on McFadden was trying to turn left into the Walmart parking lot when that vehicle clipped an Acura that was traveling eastbound on the street, Bertagna said. A witness at the scene told KTLA both of the vehicles were faced with yellow lights.
The collision caused the Acura to go up over the center divider and onto the wrong side of the road, where the car slammed head on into a semi-truck, according to the corporal. The Acura then overturned.
A group of people at the scene helped push the heavily damaged vehicle upright as they waited for first responders.
Paramedics from the Orange County Fire Authority arrived at the crash site and used heavy rescue equipment to pull both the occupants out of the wreckage.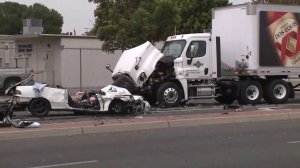 Both men were transported to UCI Medical Center in critical condition, including the driver whose injuries were described as life-threatening.
Neither has been identified.
The driver of the big rig — which bore advertising for Dos Equis beer — was not hospitalized.
Authorities are looking to review surveillance footage as they investigate the circumstances of the crash, including whether speed was a factor.
"There was very little damage to the vehicle that was making the left turn, so was there a high rate of speed on the part of the vehicle — the Acura? Or why did it flip over? Those are all the things that they're looking to as we speak," Bertagna said.
He noted investigators also found marijuana bongs at the scene.
"I don't know if they were currently under the influence or not. That's yet to be determined," Bertagna said.
McFadden was closed between Harbor and Jackson Street while the crash was investigated. The road has since been reopened.
No additional details were immediately released.
KTLA's Erika Martin contributed to this story. 
#UPDATE Driver and passenger from Acura remain in critical condition. Mc Fadden will remain closed for approximately two hours. #SAPDPIO #SAPDTraffic pic.twitter.com/V6Dy8xqcpH

— SantaAnaPD (@SantaAnaPD) May 13, 2019