This is an archived article and the information in the article may be outdated. Please look at the time stamp on the story to see when it was last updated.
Hundreds of firefighters were battling an out-of-control wildfire burning into the Angeles National Forest, prompting mandatory evacuations in the Santa Clarita area and Little Tujunga Canyon Friday evening.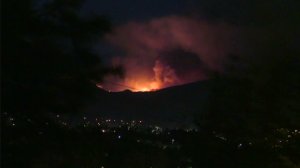 Being called the Sand Fire, the blaze had scorched 3,327 acres as of 10 p.m., less than eight hours after it was first reported. It was 0 percent contained.
The fire began around 2:10 p.m. along the northbound side of the freeway near Sand Canyon Road, and people were told to avoid the area in a Los Angeles County Fire Department alert.
As the night wore on, the wind-fanned flames began burning in a southeasterly direction along the ridge lines in the Angeles National Forest.
An estimated 300 fire personnel were battling the blaze along with eight fixed-wing aircraft and five helicopters, according to an update from fire officials.
As of midnight, mandatory evacuations had been ordered for 200 to 300 homes in unincorporated Little Tujunga Canyon. The evacuation order affected homes from Bear Divide to the Los Angeles River Ranger Station.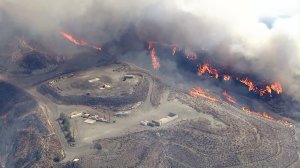 Evacuations were also in effect in the Santa Clarita area from Soledad Canyon to Agua Dulce Canyon Road, the Fire Department said on Twitter. At Capra Road, less than 100 people were evacuated.
The high in the area was 111 degrees when the fire broke out, with a west-southwest wind of 15 mph with gusts of up to 25 mph, according to the National Weather Service forecast. On Twitter, the weather service described very hot and dry conditions prompting "extreme fire behavior."
Smoke and ash from the fire was being pushed southeast into the San Gabriel and San Fernando valleys, posts on social media showed.
The area where the fire is burning is sparsely developed, but it is within a few miles of residential areas.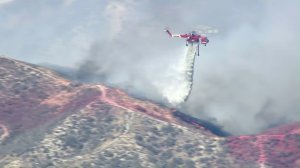 A shelter was set up at Golden Valley High School on Robert C. Lee Parkway in Santa Clarita.
A second shelter was later opened at the Lakeview Terrace Recreation Center on Foothill Boulevard.
Large animals can be taken to the Pitchess Detention Center (Jack Bones Equestrian Center) on The Old Road in Castaic.
The 14 Freeway was open, but Soledad Canyon was closed between the freeway and Agua Dulce Canyon Road, fire officials said. Metrolink trains to Lancaster were canceled at Via Princessa.
Road Closures #SandFire @LACoGoModal @CHP_Newhall @LACoFDPIO #LASD #SCV pic.twitter.com/5rAO9AU1e6

— SCV Sheriff (@SCVSHERIFF) July 23, 2016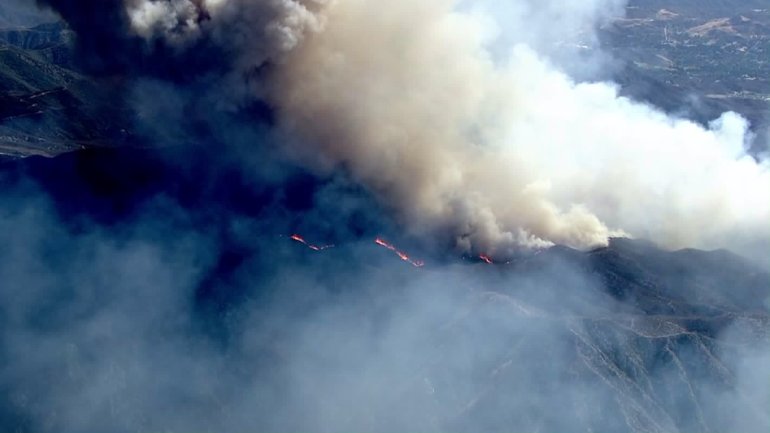 #sandfire burning hard into the ANF pic.twitter.com/X3bJ4Je8IT

— socalfirephoto.com (@SoCalFirePhoto) July 22, 2016