This is an archived article and the information in the article may be outdated. Please look at the time stamp on the story to see when it was last updated.
After a shooting in Hollywood on Tuesday afternoon left a rapper named Young Dolph in critical condition, investigators detained one man and are continuing to search for two people possibly involved in the shooting, according to Los Angeles Police Department officials.
The shooting happened in the valet parking area of the Loews Hollywood Hotel at the popular Hollywood & Highland entertainment complex, according to a police captain on scene who identified the victim as Young Dolph.
The injured rapper was transported to medical care and had to undergo surgery and was in critical condition, LAPD Detective Meghan Aguilar said.
Dolph was shot after getting into an "argument" with three other people outside the Loews Hollywood Hotel shortly after 1 p.m., Aguilar said.
"They had an argument, which escalated to a physical fight," Aguilar said. "At one point, Young Dolph was knocked to the ground. And then one of the suspects pulled out a handgun and began shooting at him."
She said the rapper managed to get up and run into a nearby store. Aerial video from Sky5 showed police investigating outside the Shoe Palace store, which is next to the hotel.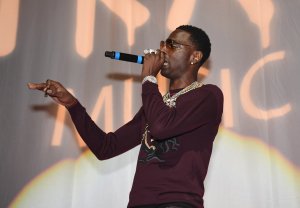 The trio who assaulted Young Dolph ran in different directions, the detective said.
The shooter was initially described by police as a black man last seen in a gold Cadillac Escalade. The vehicle was later found abandoned near Highland and Franklin avenues, a block from the hotel, police said.
Later, Aguilar said police were looking for two black men and a Hispanic man. She described the gunman as a black man about 6 feet tall with a stocky build, and wearing a light-colored shirt and torn jeans.
Shortly after the shooting, Sky5 footage showed police escorting a black man – in a white T-shirt and handcuffed – to a patrol vehicle. Aguilar later said police are not sure if the man detained is the shooter, or if one of the two people still at large pulled the trigger.
"We have one individual detained. We're not sure if that was the person who shot Young Dolph," she said, adding that the person detained may have only been involved in the fight outside the hotel.
Dolph is a 32-year-old rapper based in Memphis, Tennessee, who released a debut album in February 2016 entitled "King of Memphis" that peaked at No. 49 on the Billboard 100 chart. His second album, "Bulletproof," was released in April.
Young Dolph's SUV was shot multiple times in February in Charlotte, North Carolina, according to the hip-hop site XXL. About 100 shots were fired, a local television station reported. "Bulletproof" was apparently released in response to that.
He was born Adolph Thornton Jr. in Chicago, Billboard reported.
Photos posted to Young Dolph's Instagram account shortly before the shooting showed him posing on a street in Los Angeles.
Commanding Officer Cory Palka of the LAPD's Hollywood Division tweeted that traffic in the nearby area would be shut down due to the shooting, later tweeting that the immediate area would be shut down through 6 p.m.
Update:Highland Ave.,N of Hollywood Bl. Area will be closed until at least 5 PM. Expect significant traffic delays. PIO on scene.Thank you.

— Cory Palka (@lapd2014) September 26, 2017
Update: Shooting Incident
We still need at least 1 more hour to process the crime scene. Expect traffic delays through 6PM. Thank You.

— Cory Palka (@lapd2014) September 26, 2017
Police initially described the victim as a 20-year-old man and initially said they do not know how many suspects they're looking for, until later saying that they're searching for two people.
Check back for updates to this developing story.
KTLA's Jennifer Thang and Melissa Pamer contributed to this article.