This is an archived article and the information in the article may be outdated. Please look at the time stamp on the story to see when it was last updated.
A 20-year-old woman was found shot to death in her car in San Bernardino Wednesday night and it was the city's 40th homicide this year, officials said.
The incident was reported about 8:25 p.m. near the intersection of Date Street and Fairfax Drive, San Bernardino Police Officer Eileen Hards said.
The victim, Jaemiah Trammel, of Colton, was found with a gunshot wound to the head. She apparently crashed her car after she was shot, Hards said.
She was pronounced dead at the scene.
She appears to have been shot from outside of the car, Hards said.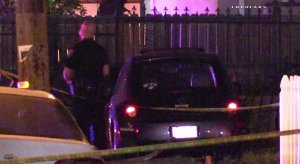 The officer described the suspect as a black adult man wearing blue clothes.
No arrests have been made in the case and the motive behind the crime is also under investigation.
Once investigators put up crime tape, police officials say people in the neighborhood became uncooperative and refused to keep out of the crime scene.
Officers in riot gear were brought in to keep the scene safe.
Hards said Wednesday's killing was the city's 40th this year; only 16 had been investigated at this time last year.
It happened less than two miles from where a triple homicide took place on July 8.
Trayvon Brown, 26, has been charged on suspicion of fatally shooting 9-year-old Travon Williams, the boy's father, 26-year-old Travon Lamar Williams, and 25-year-old Samathy Mahan.
Investigators believe Brown was targeting Mahan, a documented gang member and recently paroled felon.
Anyone with information on Wednesday's shooting can call 909-384-5630 or 909-384-5615.
KTLA's Jennifer Thang contributed to this story.