This is an archived article and the information in the article may be outdated. Please look at the time stamp on the story to see when it was last updated.
In 1998, a jogger found a newborn baby buried alive in the foothills of Altadena, his umbilical cord still attached. The baby, not more than a few hours old, hovered near death.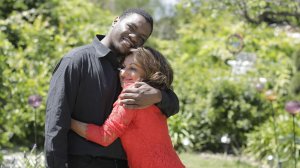 For decades, Azita Milanian would wonder what happened to the boy after he recovered at a Pasadena hospital and was put up for adoption. This week, 20 years to the date of when she found him, the pair were reunited.
"I was waiting for you for 20 years," a tearful Milanian said as she hugged Matthew Whitaker.
It was a reunion that came about in an unlikely way, after a friend's mom wrote into the KIIS FM radio station explaining Whitaker's story and asking for a 23andMe DNA kit so he could learn more about his ancestry.
Read the full story on LATimes.com.