This is an archived article and the information in the article may be outdated. Please look at the time stamp on the story to see when it was last updated.
Update, Oct. 25:
The Tick Fire jumped the 14 Freeway overnight and grew in size, threatening even more homes.
Get updated coverage here
.
Previous story, Oct. 24:
A wind-driven wildfire broke out in Agua Dulce Thursday afternoon, forcing evacuations and destroying at least half a dozen homes as it spread rapidly into the Canyon Country area.
Los Angeles County firefighters first reported the incident around 1:45 p.m. on the 31600 block of Tick Canyon Road. Dubbed the Tick Fire, it moved quickly downhill toward residential communities in Santa Clarita. Within 20 minutes, the flames had spread to 200 acres, and by 8 p.m. it covered an estimated 3,950 acres, according to the
County Fire Department
. Although officials had briefly listed the fire at 5,000 acres around 6:30 p.m., it was downgraded back to 3,000. It was 5% contained and forced the evacuation of 50,000 people, fire officials said. Several structures have been lost but it's unclear how many, firefighters said. Los Angeles County Supervisor Kathryn Barger said at least six homes had been lost. Aerial video showed the blaze was closing in on residences in a remote area before
at least one in the area went up in flames
just before 2:20 p.m. By 2:40 p.m., the flames were moving toward homes in the area of Sunrose Place, within Santa Clarita city limits, the video from Sky5 showed. Aircraft could be seen conducting water drops in the area. Later, Sky5 was overhead the area of Baker Canyon Road off Sierra Highway, where at least six homes were burning by 6 p.m. However, around the same time, fire officials said the flames' forward progress was slowing. "As the fire fight continues, we are monitoring the winds throughout the evening as they may increase or change direction & intensify this fire and destroy more homes," LAFD said. Crews could be seen working to prevent the fire from advancing onto residential properties. By 9:30 p.m., aerial footage showed several spots in the area still ablaze as firefighters worked. A Sikorsky firefighting helicopter was struck by a bird during Thursday afternoon's firefight, Los Angeles County Fire Department Chief Daryl Osby said. No personnel on board were hurt, though the helicopter and it's windshield sustained "significant" damage. "Thankfully, they were able to land safely back at our heliport," he said. "The windshield will be repaired, and that particular copter will fly tomorrow to assist with this incident." Gov. Gavin Newsom announced late Thursday that the state has secured a Fire Management Assistance Grant from the Federal Emergency Management Agency. "This assistance provides vital support for our response to the fast-moving Tick Fire, which has already threatened hundreds of homes and forced the evacuation of thousands of residents," Newsom said in a prepared statement. "I urge all impacted residents to stay safe and up to date on evacuation information."
Evacuations ordered, schools closed
Several areas in Santa Clarita were under mandatory evacuation orders, according to
sheriff's
and
fire officials
: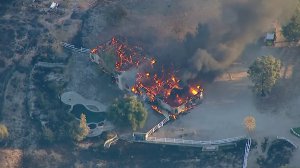 • South of Vasquez Canyon Road • North and east of Plum Canyon Road • North and east of Whites Canyon Road • North and east of Soledad Canyon Road • West of Agua Dulce • South and north of the 14 Freeway • East of Sand Canyon Road • North of Placerita Canyon • West of Robinson Ranch Golf Course • West of Sequoia Road • Davenport Road east of Sierra Highway, including all streets off Davenport Road The 14 Freeway northbound and southbound offramps at Soledad Canyon Road were be closed indefinitely, according to the CHP. Osby urged those living near the fire to be on the alert and "stay vigilant," even if they're not currently under evacuation orders. Los Angeles County Sheriff Alex Villanueva said 130 deputies were patrolling the evacuated neighborhoods to help keep them secure. By 9 p.m., fire and Sheriff's Department officials said they were working to identify areas that can be repopulated Thursday night.
Current mandatory and voluntary evacuation areas are visible at https://t.co/p46PbDhrCO #TickFire pic.twitter.com/wdxtvccOe9

— Los Angeles County (@CountyofLA) October 25, 2019
#TickFire *Evacuation Update*| ongoing press briefings will be occurring at Fire Station 150 throughout the evening pic.twitter.com/r02HUqkLWW

— L.A. County Fire Department (@LACoFDPIO) October 25, 2019
SIGALERT IN SANTA CLARITA: SOLEDAD CYN OFFRAMPS FROM S/B AND N/B SR-14 WILL BE CLOSED FOR AN UNKNOWN DURATION DUE TO BRUSH FIRES IN THE AREA

— CHP PIO – LA County (@CHPsouthern) October 24, 2019
Sheriff's officials said they were considering a "large evacuation footprint" due to sustaining wind and fire activity. Shelters were set up at a College of the Canyons Valencia campus gym in Santa Clarita at 26455 Rockwell Canyon Road, and the Newhall Community Center at 22421 Market St. A different address for the College of the Canyons gym was initially tweeted by the Sheriff's Department. The address was later updated. Large animals and livestock were taken to Pierce College in Woodland Hills, 6201 Winnetka Ave., but it was closed by 9 p.m., according to LAFD. Small animals could be taken to the Castaic Animal Care Center at 31044 North Charlie Canyon Road. Santa Clarita officials asked people not to evacuate to Central Park on Bouquet Canyon Road, which was being used as a basecamp for fire crews. Classes were canceled for Friday at all schools in the following districts:
William S. Hart Union High School District
Saugus Union School District
 Castaic Union School District
Los Angeles Unified School Districts schools within the San Fernando Valley
Fillmore Unified School District
Mupu School District
https://twitter.com/LASchools/status/1187572210019401728 By 3:20 p.m., a
second blaze dubbed the Tick Branch 10
, was burning just outside backyards in Castaic after breaking out along the 5 Freeway. Flames could be seen singing the roofs of multiple homes. In the Val Verde area, another fire had damaged at least four mobile homes. The city of Santa Clarita said it would be posting public safety updates on its
emergency website
. A fourth L.A. County fire,
dubbed the Sepulveda Fire
, was burning in the Sepulveda Basin. All three fires were 0% contained as of Thursday evening. But, Osby said officials were confident they could contain the Castaic and Val Verde fires Thursday night. Earlier Thursday, firefighters had combatting blazes in
Orange
and
San Bernardino
counties, but both incidents had been largely neutralized by late afternoon.
Critical fire weather conditions
The fast-moving fire came amid widespread red flag warnings with strong Santa Ana winds fanning Southern California. Coupled with high temperatures and low humidity, fire danger in northern L.A. County was considered extreme — and more extreme than during the Saddleridge Fire that destroyed homes earlier this month in the northern San Fernando Valley. Gusts of 45-55 mph were expected to continue in the Tick Fire area through Friday morning, the
National Weather Service
said. Osby said winds were expected to get stronger Thursday night, and extreme fire behavior and rapid spread would continue through Friday. "Our weather projections are that the winds will sustain where they are tonight and even get worse, so we're going to have our firefighters out all night trying to do what they can to protect structures and place emphasis on containing this fire," he said. Agua Dulce was among several areas where
Southern California Edison had shut off power
as of 12:45 p.m. in an attempt to prevent downed power lines from sparking fires. Smoke from Thursdays fires was spreading as far as Ventura County. NWS meteorologist Keily Delerme told the Los Angeles Times that hot temperatures were contributing to the massive amount of smoke. "That's why the plume looks so impressive, because it's very warm near the fire," Delerme said.
VIDEO: @LACoFireAirOps Firehawk helicopters fighting wildfire on three fronts. Working to protect lives and property earlier in Santa Clarita, CA. #TickFire @LACoFDPIO (media ok to use with credit) pic.twitter.com/XZEOlS3ZxL

— LACoFireAirOps (@LACoFireAirOps) October 25, 2019
#Tickfire evacuations. If you live in the areas described, please begin to evacuate. pic.twitter.com/1iP7HDcP3w

— LA County Sheriffs (@LASDHQ) October 24, 2019
#TickFire is now 3rd Alarm @LACoFDPIO @Angeles_NF #LAWind @LASDHQ @CHP_HQ @SCVSignal media has permission w credit. Follow @LACoFDPIO for official information pic.twitter.com/F6DH90hbaZ

— Michael Dubron (@MichaelDubron) October 24, 2019
#TickFire is now 3rd Alarm @LACoFDPIO @Angeles_NF #LAWind @LASDHQ @CHP_HQ @SCVSignal media has permission w credit. Follow @LACoFDPIO for official information pic.twitter.com/4Vagk8gOji

— Michael Dubron (@MichaelDubron) October 24, 2019
If these are your dogs, don't worry. @SCVSHERIFF deputies were able to rescue them off of the Old Road. They are now in the care of animal control. pic.twitter.com/OBWaD1Z7uB

— LA County Sheriffs (@LASDHQ) October 25, 2019
Central Park is being used as a base camp for fire crews responding to the #TickFire. Please avoid the area. There are reports of people evacuating there with their pets. Please go to one of the other parks in the City that is not under evacuation.

— Santa Clarita City (@santaclarita) October 25, 2019