This is an archived article and the information in the article may be outdated. Please look at the time stamp on the story to see when it was last updated.
The National Guard is heading to the California-Mexico border next week in what marks the first deployment under Gov. Jerry Brown's deal with the Trump administration to beef up border security.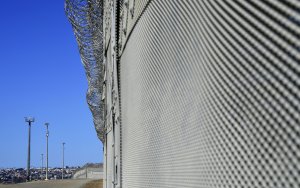 About 200 Guard members were expected to arrive at Camp Roberts in Central California Saturday for training before deploying to El Centro and San Diego in the middle of next week, Lt. Col. Thomas W. Keegan said in a statement.
"This mission will focus on combating transnational criminal gangs, human traffickers and illegal firearm and drug smugglers," Keegan said, adding that personnel will provide counter-drug surveillance, gather intelligence, monitor cameras and install and operate equipment.
Guard members will not enforce immigration laws, nor will they help construct a border wall during the deployment, which will run through September. Brown and federal officials agreed to those terms this month after Trump requested that the nation's border governors increase security along the border.
Read the full story on LATimes.com.