This is an archived article and the information in the article may be outdated. Please look at the time stamp on the story to see when it was last updated.
New evacuation orders have been issued amid a flare-up of a wildfire that has burned about 40 square miles in the San Bernardino Mountains south of Big Bear, authorities said.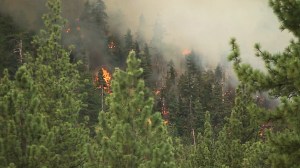 Whipped by strong winds, the Lake Fire rapidly spread during the afternoon hours Wednesday, prompting mandatory evacuations in the areas of Burns Canyon and Rimrock, according to InciWeb, a wildfire website maintained by the U.S. Forest Service and other federal agencies.
Nearly 7,400 structures were threatened by the blaze, according to a news release issued Thursday morning by the interagency fire management team.
The community of Pioneertown, over which hung a massive cloud of gray-and-white smoke, was placed under a voluntary evacuation order on Wednesday, and some 360 campers were evacuated from Camp Oakes in the Lake Williams area as a precautionary measure.
Pioneertown resident Jill Endicotte, who was evacuating along with her neighbors' horses, said the scenario was like "déjà vu" because her home was one of about 50 that burned in the 2006 Sawtooth Fire.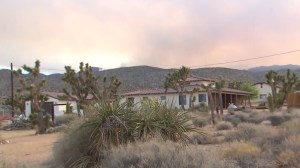 "We get a little gun-shy," Endicotte said.
Sean Duggan, another local, said he purchased his property for fairly cheap because it also had burned in the 61,700-acre Sawtooth Fire.
"I thought, oh, it's kind of safe. Now … we've got fire coming over the hill, and it's a little nerve-wracking being up here," Duggan said.
Evacuation orders also remained in effect in all areas east of Angelus Oaks, including Barton Flats, Seven Oaks, Heart Bar and homes off Rainbow Lane. All cabins and campgrounds in the South Fork area were also under evacuation orders.
A shelter for evacuees was operating at Copper Mountain College, at 6162 Rotary Way in Yucca Valley, InciWeb stated.
The cost of the firefight, which began in the Barton Flats area on the afternoon of June 17, had risen to $14.6 million, the release stated Thursday.
Containment of the fire had dropped overnight to 21 percent after the blaze was active in the Rainbow and West Pipes Canyon areas.
By early evening Thursday, the fire was up to 25,599 acres, or nearly 40 square miles, and containment was further down to 19 percent, according to a tweet from the San Bernardino National Forest.
Some 2,116 firefighters and support personnel were working the blaze.
The fire "took a turn" and was burning south and east of Onyx Summit in a northward direction, according to a Thursday morning news release from the county Sheriff's Department. By early evening, the head of the fire had pushed north around Rainbow Lane and then turned east.
It was burning north and west of the Three Sisters Peaks area and was active in the San Gorgonio Wilderness.
Cal Fire Capt. Chris Kemp said the fire was burning into very rough and difficult-to-reach terrain on Thursday.
Conditions were expected to remain warm and dry with gusty west winds over the next few days, but temperatures were set to cool slowly and humidity was expected to increase, according to InciWeb.
Highway 38 between Angelus Oaks and Lake Williams was set to remain closed indefinitely because of reduced visibility and firefighting efforts, according to InciWeb.
Hiking trails were closed into the San Gorgonio Wilderness area, as was the Pacific Crest Trail from Whitewater Preserve to Onyx Summit.
Depending on fire behavior, more evacuations could potentially be ordered, including Lake Williams, Erwin Lake and Baldwin Lake, sheriff's officials said. Residents will be told to evacuate if the fire "reaches the pre-designated trigger point," the release stated.
The south side of the fire continued to burn downhill in steep, rocky terrain, igniting unburned trees and grass that were fueling it in a downhill direction, according to InciWeb.
Firefighter battling that side of the fire were hampered in their efforts late Wednesday afternoon when an air tactical group supervisor encountered a drone flying between his plane and another aircraft fighting the flames, Forest Service authorities said.
All aircraft working the south side of the fire were forced to land as a result of the incident, which impeded efforts to stop the fire's rapid spread, Mike Eaton, forest aviation officer for the San Bernardino National Forest, said during a Thursday morning news conference.
"It kept us, just the aircraft we had in the air at the time, from delivering 5,000 gallons of retardant to the fire, and any subsequent missions we might have had," he said. "The big part of it, is that we had to shut down subsequent missions that could have contained, possibly, that south side of the fire. So the fire continues to burn, and we'll get back at it today."
Although hundreds of structures have been threatened by the massive blaze since it broke out last week, no buildings have been damaged or destroyed thus far.
Four firefighters have been injured battling the blaze, according to InciWeb which did not provide information about the extent of the injuries and the conditions of the firefighters.
Smoke from the fire was expected to result in unhealthy air quality in eastern San Bernardino Mountains areas, prompting the South Coast Air Quality Management District to issue another smoke advisory on Wednesday.
A smoke advisory was also issued for Yucca Valley, Morongo Valley, Lucerne Valley and surrounding communities, where changing weather and fire conditions were expected to impact air quality, according to the Mojave Desert Air Quality Management District.
The cause of the massive blaze remained under investigation.
More video: