This is an archived article and the information in the article may be outdated. Please look at the time stamp on the story to see when it was last updated.
Homicide investigators and relatives of a father and son who were killed inside their Norwalk home were asking for help in the five-month-old case on Wednesday, when a $20,000 was publicized.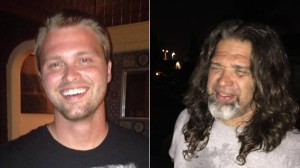 Walter Vicente, 49, and his son, 24-year-old Andrew Vicente, were found shot to death inside their home in the 12300 block of Gettysburg Drive on July 14.
After investigators looked at business and personal disputes, potential vendettas and other possibilities, no clues have emerged, Los Angeles County Sheriff's Department homicide Lt. Dave Coleman said Wednesday.
"Right now, we can find absolutely no motive for these murders," Coleman said. "We could find nobody that bore any ill will to either one of them."
There were no signs of forced entry or that anything was stolen from the home, and the family's pit bill was unharmed at the home, authorities said. They believe the pair were killed early in the morning.
Andrew's older brother found the two when he stopped by at the home. Andrew's mother Tina Haas teared up as she said she was trying to "remain strong" for him and Andrew's 14-year-old younger brother.
Walter Vicente, a U.S. Army veteran, owned a plumbing company, and his son worked with him, the Sheriff's Department said in a news release Wednesday. The two played guitar and liked to sing, and had plans to expand the business.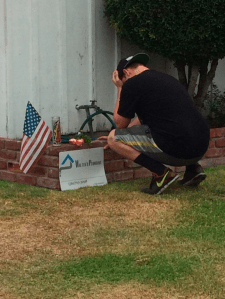 The city of Norwalk and the county Board of Supervisors were offering rewards, which combined amount to $20,000, for information leading to the arrest and conviction of the killer or killers.
The victims were not gang members and a motive for their shooting was not known, the city of Norwalk said in announcing its reward in November. The case was at a standstill, the city said.
"We're pleading as a family that is hurting hard that we need your help in getting the information to help find the people responsible for taking two lives away," Walter Vicente's brother James said.
The father's company was called "Walter's Plumbing."
More information was released at a morning news conference where family members spoke on Wednesday.
Check back for updates on this developing story.