This is an archived article and the information in the article may be outdated. Please look at the time stamp on the story to see when it was last updated.
A mother whose 4-year-old son was shot to death in Altadena last month issued a tearful plea for the public's help in finding his killer as a reward was offered in the case Thursday.
Salvador Esparza III, of Monrovia, was visiting with family friends on July 5 when he was fatally shot at a home in the 300 block of West Figueroa Drive around 10:40 p.m., according to the Los Angeles County Sheriff's Department. A 27-year-old man was also shot and wounded.
More than a month after the fatal shooting, no arrests have been made in the homicide, prompting authorities to announce a $20,000 reward at a news conference Thursday.
No one has come forward to help identify the shooter, authorities said.
"If you know who did this, if you know what caused it, how can you, yourself, sleep at night?" said the child's grandmother, Juanita Esparza. "This happened to us, and it could happen to your family as well. God forbid anything is ever to happen to another kid … but put yourself in our shoes."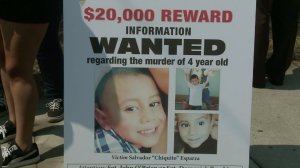 The boy's mother, Coral Salvador, cried as she repeatedly pleaded with witnesses to put everything aside, think of the child and talk to police.
"Please, please don't be scared to talk. Just talk to detectives, talk to somebody about it," Salvador said. "I really want justice for my son."
A tearful Salvador described her son as a happy little boy who loved his family.
" I feel like he got ripped away from me," she said. "He was really excited to start school."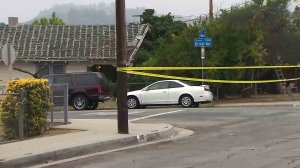 The Sheriff's Department said the boy would have started kindergarten this month.
Investigators believe young Salvador and the other victim were shot by a man who was involved in an altercation earlier in the day with the child's mother's boyfriend, who lives at the home.
The victims were in the front yard when they were struck.
The boyfriend and his brother were possibly the shooter's intended targets, sheriff's Lt. John Corina said last month. The man who was shot told investigators he does not know the shooters, the lieutenant said Thursday.
"Do I believe him? I think he probably knows more than he's telling us," Corina said.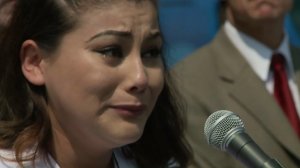 Investigators have not named any suspects in the case, nor do they have a detailed description of the shooter.
"We don't have much of a description right now," Corina said Thursday. "We have a male black suspect who got into a dark-colored car and drove off."
He emphasized that witnesses can leave tips anonymously.
Deputies went door to door Thursday, passing out wanted fliers to area residents.
Anyone with information is asked to call the department's Homicide Bureau at 323-890-5500. Those who wish to leave a tip anonymously can call Crime Stoppers at 800-222-8477.