This is an archived article and the information in the article may be outdated. Please look at the time stamp on the story to see when it was last updated.
Authorities will announce a $20,000 reward Thursday for information in their search for whoever killed two men in a gas station parking lot in Compton last May.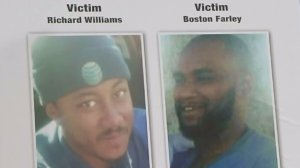 Boston Farley, 23, and 24-year-old Richard Williams were shot and killed on May 15 as they were pulling out of a gas station parking lot in the 1200 block of South Wilmington Avenue, the Los Angeles County Sheriff's Department stated in a news release.
The gunman, who was waiting on the sidewalk when he opened fire on Farley and Williams, got into a white pickup truck that drove away following the shooting, the Los Angeles Times reported shortly after the incident.
The suspect fired into Williams' vehicle at least 19 times, "for no reason," Lt. John Corina said during a news conference Thursday.
Williams was found inside the vehicle following the shooting and died at the scene.
Farley, who had a 1-year-old son, was taken to a hospital, where he died later that evening, the Times reported.
A third person who was in the vehicle was able to escape unharmed, police said.
"He lived for his son," Farley's older sister Alaricka Hayes said. "He was not into gangs. He was a good kid. He was a good soul," she told the Times.
Williams also had a son. The two were life-long friends and police said they did not have gang ties.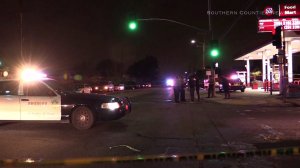 The Los Angeles County Board of Supervisors approved a reward of $10,000 for information leading to the arrest and conviction of the person responsible for the killings, the Sheriff's Department stated. Another $10,000 has been added by the victim's family making the total offer $20,000.
Authorities and family members announced the reward and asked the public for help in their search during the news conference at Compton City Hall.
"Please, if you saw something no matter how small, please help us," Gwendolyn Williams, the victim's mother, pleaded during the news conference. "Help us bring some sort of peace back to our family lives."
"If black lives really matter, help us find who took this black life," Denise Hayes, Farley's sister said Thursday.
Anyone with information can call Crime Stoppers at 800-222-TIPS (8477).