This is an archived article and the information in the article may be outdated. Please look at the time stamp on the story to see when it was last updated.
The Tournament of Roses crowned a queen to reign over the 2020 Rose Parade during a ceremony in Pasadena Tuesday night.
Camille Kennedy of Pasadena, a senior at La Salle College Preparatory, was selected as the 102nd Rose Queen.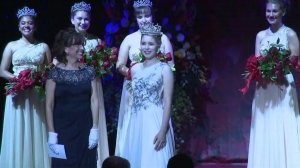 Kennedy is involved in drama and musical theater at La Salle, and landed a leading role earlier this year in the musical "City of Angels." She is also a member of her school's choral group and the Support Our Troops Club.
After high school, Kennedy hopes to attend college in Japan, with Waseda University in Tokyo and Asia Pacific University on the island of Kyushu being her top choices.
The queen's parents are Jennifer and Tim Kennedy. The family includes two younger daughters, Ava and Esmé.
When asked if she expected the win, Kennedy said it "didn't even cross my mind."
"As a Pasadena girl, I thought that the Tournament of Roses was — as my Royal Court members have said — a rite of passage," she said. "It's just something that you do; you don't think too much about it."
During the coronation ceremony, Kennedy was given a Mikimoto crown with more than 600 pearls and 6 carats of diamonds.
The queen was chosen from seven finalists named to Royal Court last month. This year's princesses include:
• Cole Fox, a South Pasadena resident and senior at South Pasadena High School.
• Emilie Risha, a La Cañada Flintridge resident and senior at Flintridge Sacred Heart Academy.
• Rukan Saif, a Temple City resident and senior at Arcadia High School.
• Reese Rosental Saporito, an Altadena resident and senior at Marshall Fundamental School in Pasadena.
• Mia Thorsen, an Altadena resident and senior at Marshall Fundamental School in Pasadena.
• Michael Wilkins, a Pasadena resident and senior at Maranatha High School in Pasadena.
"It could have been any one of us," Kennedy said of her Royal Court. "It's of course an honor, but I'm so glad to have had these six other girls by my side when it happened."
The entire court will ride aboard a float in the 131st Rose Parade and get to attend the Rose Bowl on New Year's Day. Each court member also receives a $7,500 scholarship.
The queen and court will also spend a year serving as ambassadors of the Tournament of Roses and Pasadena community. Kennedy said they've already undergone etiquette and speech training.
This year's finalists were chosen from a pool of 45 applicants hailing from Pasadena-area schools. The committee says they were evaluated on their public speaking skills, academic achievements, leadership experience and community and school involvement.
Last year, the crown was bestowed on Louise Deser Siskel of San Marino, who at the time was a senior at Sequoyah High School in Pasadena with plans to attend the University of Chicago to study cellular and molecular biology. She became the first openly LGBTQ Rose Queen after coming out as bisexual in a Los Angeles Times op-ed.
"While I am almost certainly not the first member of the LGBTQ community on the court, I hope that by saying so publicly, I might encourage others to be proud of who they are," Deser Siskel wrote.
Deser Siskel was unable to attend this year's coronation due to a midterm in Chicago, but appeared in a video message.
Tuesday night's event was hosted by KTLA 5 Morning News anchor Lynette Romero at The Pasadena Playhouse.
Spent some time with the @RoseParade #Royalcourt prepping for tomorrow's coronation. Only one can be Queen. But they should all be proud. Looking forward to being the program's #HOST2019 @KTLAMorningNews 🌹 pic.twitter.com/kOK817wlYb

— Lynette Romero (@LynetteRomero) October 22, 2019