This is an archived article and the information in the article may be outdated. Please look at the time stamp on the story to see when it was last updated.
A 21-year-old alleged driver was charged Tuesday in a Highland Park hit-and-crash crash that left a bicyclist dead after the victim was dragged for several hundred feet.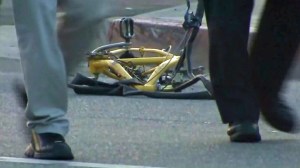 Alexis Virto was charged with one count each of gross vehicular manslaughter while intoxicated, driving under the influence of an alcoholic beverage causing injury, driving with a .08 percent blood-alcohol content causing injury, and hit-and-run driving resulting in death or serious injury to another person.
Virto still had windshield debris in his hair when he was arrested at his home several hours after the early morning crash on North Figueroa Street at Marmion Way Friday, police had said. He was still drunk when he was taken into custody, according to the Los Angeles Police Department.
Virto pleaded not guilty at his arraignment hearing at the downtown Los Angeles Foltz Criminal Justice Center on Tuesday. He was due back in court July 28.
Investigators believe that the vehicle that fatally struck Jose Luna, 33, was going between 60 and 80 mph, according to the Los Angeles County District Attorney's Office. The impact of the crash severed one of Luna's legs, the DA's office stated.
Virto allegedly drove for 200 hundred yards with Luna on the hood of his car. Police said the cyclist was traveling in a crosswalk with a green light when he was struck by the speeding car.
Luna died of multiple traumatic injuries, according to the county coroner's office.
Virto faces up to six years in state prison if convicted as charged. He had initially been booked on suspicion of second-degree murder and felony driving under the influence with great bodily injury, police said Friday.
Prosecutors planned to ask that bail be set at $130,000.
The case has inflamed passions in the cycling community, which includes many members angry with City Councilman Gil Cedillo for shooting down city-planned bike lanes along North Figueroa Street in Highland Park.
Dozens of cyclists turned out at a vigil at the crash site Friday night, some with signs calling for "safe streets."