This is an archived article and the information in the article may be outdated. Please look at the time stamp on the story to see when it was last updated.
A driver was charged Friday in a fatal hit-and-run crash in Chatsworth that killed two brothers, the Los Angeles County District Attorney's Office announced.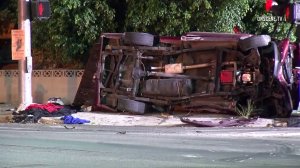 Dylan Shane Rutherford, 21, of Simi Valley faces two felony counts each of gross vehicular manslaughter while intoxicated and hit-and-run driving resulting in death, the DA's office reported. Brothers Hector, 44, and Ernesto Castro, 42, both died in the crash, prosecutors said.
On Oct. 7 around 10:40 p.m., prosecutors said Rutherford was driving a pickup truck while under the influence and ran a red light near the intersection of De Soto Avenue and Chatsworth Street. According to prosecutors, Rutherford's truck slammed into a second truck, causing it to overturn and catch fire.
If convicted as charged, Rutherford faces a possible maximum sentence of 19 years in state prison.