This is an archived article and the information in the article may be outdated. Please look at the time stamp on the story to see when it was last updated.
Police were searching for a driver who fatally struck a pedestrian in Boyle Heights early Monday and dragged him 100 feet before fleeing the scene.
The 24-year-old man was crossing East Cesar Chavez Avenue just east of Chicago Street about 12:20 a.m. when he was hit by a vehicle, according to a news release from the Los Angeles Police Department's Central Traffic Division.
The victim was dragged underneath the vehicle for more than 100 feet, the release stated. When the vehicle drove into a driveway behind a business on Chicago Street, the man's body became dislodged.
The motorist then backed out of the driveway and fled northbound on Chicago Street without stopping to help the injured pedestrian.
The victim was taken to Los Angeles County-USC Medical Center with multiple blunt-force trauma injuries. He was pronounced dead at 12:41 a.m., according to LAPD.
Family members later identified him on social media as True Cowan.
"He was a vibrant young man who served in the National Guard and was finishing his degree" at Cal State Dominguez Hills, according to a GoFundMe page created in his honor. The university later said Cowan was not a student there, stating he had taken classes at Cal State Northridge but was not longer enrolled at that campus.
A statement on the fundraising website indicated Cowan's father had "suddenly" passed away last week.
"The Cowan family is asking for assistance at this time to reunite him with his mother in Indiana to buried with his father," the page said.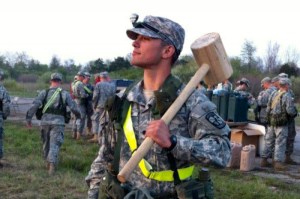 No description was available of the driver or the hit-and-run vehicle, but police said the latter could have damage to the left front and undercarriage.
Police were checking with local businesses in the area to see if the fatal collision was captured on any surveillance cameras.
An LAPD Hollenbeck Division sergeant initially said the victim was 21, but the press release later corrected that figure.
The death comes within about two months of two other deadly hit-and-run collisions in Boyle Heights. A mother was fatally struck and her 5-year-old daughter seriously injured in a Feb. 2 hit-and-run. On Dec. 13, a nun was struck near her church; she died a week later.
Anyone with information on Monday's hit-and-run was asked to call Central Traffic Division detectives at 213-833-3713, or Detective Felix Padilla at 213-486-0753, or the division watch commander at 213-833-3746. Nonbusiness hour tips can be made at 877-527-3247, and anonymous callers may dial 800-222-8477.
KTLA's Geoff Peters and John A. Moreno contributed to this story. 
Editor's note: Though a GoFundMe page indicated the victim went to Cal State Dominguez Hills, the university said Tuesday that he was not enrolled there. The headline in this story has been changed, and the article has been updated with the new information.