This is an archived article and the information in the article may be outdated. Please look at the time stamp on the story to see when it was last updated.
All lanes of the 210 Freeway in Pasadena were completely shut down for nearly an hour Wednesday morning as a bomb squad investigated a suspicious item that was tossed into eastbound lanes, apparently by a pedestrian, authorities said.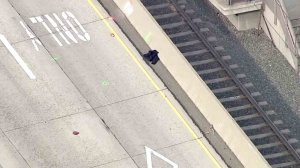 The initial call came in just before 8:50 a.m., according to California Highway Patrol Officer Peter Nicholson.
At first, only the eastbound lanes of the 210 Freeway were shut down at Lake Avenue while multiple agencies investigated the incident, he said.
By 10 a.m., both sides of the freeway had been shut down.
About 30 minutes later, an arson explosives unit was at the scene and a robot had been deployed to check out the suspicious package, according to the Los Angeles County Sheriff's Department, which also responded to the scene.
The scene was declared "all clear" after that, Pasadena Police Department Chief Phillip Sanchez tweeted.
A short time later, a SigAlert that had been in effect was canceled and both sides of the 210 Freeway were reopened.
The suspicious item appeared to have been thrown near the carpool lane, right next to the train tracks of Metro's Gold Line, aerial video from Sky5 showed.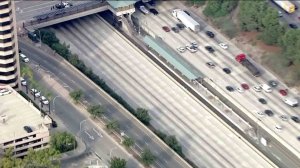 Amid the closure, the traffic backup extended on the eastbound roadway for miles, according to the footage. Some motorists got out of their cars and could be seen standing or walking around the closed road.
The Gold Line Station was also closed at the Lake Avenue stop for a short time because of the investigation, according to the Los Angeles County Metropolitan Transportation authority.
The Metro station was reopened before 11 a.m., but residual delays were expected to last for about an  hour.
Investigators did not immediately disclose what the suspicious item was that sparked the freeway shut down.
KTLA's Jennifer Thang contributed to this story.