This is an archived article and the information in the article may be outdated. Please look at the time stamp on the story to see when it was last updated.
The 210 Freeway in Pasadena was reopened in both directions Thursday morning after three separate collisions involving big rigs, authorities said. No serious injuries were reported.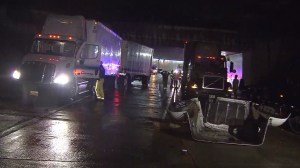 The first crash began about 11:36 p.m. when a tractor-trailer struck a wall inside a tunnel on the eastbound side of the interstate, near the 134 Freeway interchange (map), said Sgt. Barry Jones of the California Highway Patrol. The vehicle then jackknifed and hit the center divider.
"Another vehicle that was following stopped on the shoulder and avoided the collision, but was struck by a car-carrier that drove onto the left shoulder to avoid the other tractor-trailer," Jones said.
Two other big rigs also collided, causing one of them to overturn. By 4 a.m., crews had turned that big rig upright and towed it away.
The eastbound lanes were reopened at 5:11 a.m., the CHP said in a tweet.
On the westbound side of the 210 Freeway, near Seco Street, two semi-trucks jackknifed in a crash that occurred about 12:20 a.m., according to the CHP.
All westbound lanes were reopened by 4 a.m.
"Speed definitely played a factor in the accidents," Jones said. "We always should slow down when it rains."