This is an archived article and the information in the article may be outdated. Please look at the time stamp on the story to see when it was last updated.
All lanes of the 215 Freeway in Riverside County were once again open early Wednesday, nearly a full day after a big rig crash caused a partial bridge collapse that forced the closure of a portion for the roadway for more than a day.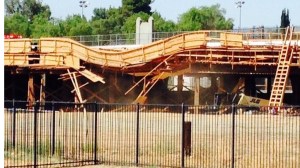 The crash occurred on Tuesday morning at the site of the 215 Freeway and State Route 74 interchange project on the northbound side of the freeway south of Nuevo Road (map) in Perris at about 10 a.m., according to Caltrans.
A SigAlert was issued a short time later, and initially all lanes of the northbound the freeway were closed at Ethanac Road, Caltrans stated.
The southbound side of the freeway was briefly closed so an engineer could ensure the bridge was safe for motorists to travel under, according to the California Highway Patrol's incident log.
Southbound lanes were reopened just before 11:45 a.m.,but were closed again shortly after 1:30 a.m., the incident log reported.
However, they were open again less than two hours later, according to the log.
All northbound lanes were reopened at 5:15 a.m., the incident log stated.
The cause of the crash was under investigation.
A similar major interstate closure occurred on the 15 Freeway in the Cajon Pass in early May, when another wooden overpass that was under construction caught fire.
In that incident, about 45 miles north of Tuesday's 215 Freeway closure, the roadway was closed for well over 24 hours, causing major traffic backups.
KTLA's Melissa Pamer contributed to this report.