This is an archived article and the information in the article may be outdated. Please look at the time stamp on the story to see when it was last updated.
Authorities on Saturday released the name of a pursuit suspect who died on the 215 Freeway in San Bernardino after being shot by a deputy who was inside a sheriff's helicopter.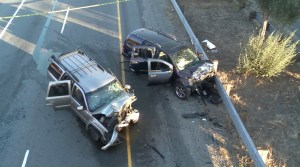 Nicholas Alan Johnson, 32, of Fontana, was identified in a news release issued by the San Bernardino County Sheriff's Department the day after the fatal incident.
The pursuit began after a home invasion in Devore led to a police chase of the suspected robber. The pursuit ended on the interstate, causing a full closure at Little League Drive and a traffic jam in and out of the High Desert beginning around 1:40 p.m. Friday.
The roadway was fully reopened around 7:45 a.m. the following day.
Sheriff's deputies attempted to make a traffic stop after spotting the suspected robber, who then led law enforcement on a pursuit through Fontana and San Bernardino, reaching speeds in excess of 100 mph on surface streets while blowing through stop signs and red lights.
He narrowly missed multiple pedestrians during the chase, according to an initial news release from the Sheriff's Department.
The driver then entered the interstate heading the wrong way, and was subsequently shot an unknown number of times by a deputy from the agency's Aviation Division.
"It's a public safety issue once he starts going the wrong way. Obviously, he doesn't care about passengers or pedestrians or other cars," Sheriff's Deputy Olivia Bozek said.
After being shot, the driver exited the pursued Chevrolet Tahoe, which was still moving, and collapsed and died. A tarp appeared to be placed over his body a few dozen feet from where his SUV crashed head-on into a Dodge Durango.
Three people inside the badly damaged Durango; a man, woman and 13-year-old boy; were injured and hospitalized.
As of Saturday, the man and teen were released from the hospital, and the woman remained hospitalized while recovering from her injuries, according to the Sheriff's Department.
An autopsy was expected to determine the cause of death for the driver.
Anyone with information regarding was asked to contact Detective Chuck Phillips or Sgt. John Gaffney of the Specialized Investigations Division, Homicide Detail at 909-387-3589. Callers wishing to remain anonymous could contact the We-Tip Hotline at 1-800-782-7463 or the We-Tip website at www.wetip.com.