This is an archived article and the information in the article may be outdated. Please look at the time stamp on the story to see when it was last updated.
A young driver who died after a high-speed crash that left his vehicle wrapped around a tree in Upland has been identified.
Geoffrey Eugene Haffner, 23, of Upland was pronounced dead at the site of the crash on Euclid Avenue north of Eighth Street on Wednesday afternoon.
The crash occurred about 4:30 p.m. when Haffner's black Chevrolet HHR SS went out of control and onto the road's shoulder, striking a tree.
It took firefighters nearly an hour to cut Haffner from the wreckage. Friends who arrived at the scene were in tears.
His identity was released by the San Bernardino County coroner's office.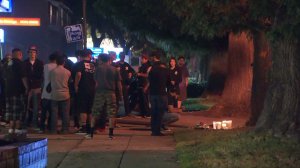 Had Haffner's vehicle not hit the tree, he might have plowed into a crowded Mexican restaurant, police said.
Alcohol and street-racing may have been involved in the crash, Upland Police Department Sgt. Marc Simpson said Wednesday.
Police on scene said that a dark-colored Chevrolet Camaro may have been involved.
Two witnesses told KTLA they saw the two cars racing at speeds they estimated at up to 90 mph.
Police initially said Haffner's vehicle was a Chevy HHR Supersport, but the coroner's office described it as a Chevrolet PT Cruiser. The PT Cruiser is actually made by Chrysler.
Upland police Lt. Mathews on Thursday confirmed the vehicle was an HHR SS.
KTLA's Matt Phillips contributed to this article.