This is an archived article and the information in the article may be outdated. Please look at the time stamp on the story to see when it was last updated.
A man who died after falling 160 feet from a crane at the Port of Los Angeles following a multi-city police pursuit was identified by authorities on Thursday.
Lt. Smith of the L.A. County Coroner's Office identified the man as 23-year-old James Llamas. A city of residence was not immediately known.
Llamas died Wednesday night after falling off a crane located at Berth 100, which he had climbed up following a reckless chase that involved multiple law enforcement agencies.
It was unclear if the fall was accidental or intentional.
Before plummeting to his death, Llamas could be seen acting erratically atop the crane tower, performing handstands and crunches, and removing all of his clothing, aerial video from Sky5 showed.
Paul Hwang, a port superintendent, said he saw Llamas driving erratically and attempted to stop him.
He said most employees were told to go inside for their own safety except for a few who, along with security, worked to box Llamas in by the waterfront.
Hwang added that when Llamas ditched the SUV, he got out of his own vehicle to try and follow him, but police advised him against going up the crane.
Police surrounded the area as they tried to get him to surrender.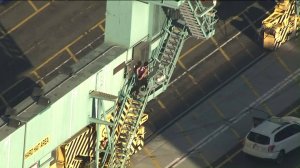 The incident began around 3:10 p.m. that day, when LAPD received a call about a vehicle being stolen out of San Bernardino, according to Los Angeles Police Department Officer Tony Im.
A person connected with the dealership where the SUV was allegedly stolen from, told KLTA that a man who appeared to be Llamas showed up at the dealership Wednesday and appeared to be high on something.
The source said Llamas hopped in the SUV and took off when employees were distracted.
Officials used a tracking device to locate the stolen white 2018 Subaru SUV before they lost sight of it on a local freeway. Torrance police later spotted the vehicle and picked up the chase, but eventually called it off for unknown reasons, Im said.
Later, Long Beach police found the vehicle and chased it before the SUV ended up at the port, where the driver could be seen weaving in and out of lanes, according to the aerial footage.
He then exited the vehicle and climbed the stairs of a crane tower at the West Basin Container Terminal.
Llamas was atop the crane for more than three hours before the fatal fall.
KTLA's Irving Last contributed to this story.