This is an archived article and the information in the article may be outdated. Please look at the time stamp on the story to see when it was last updated.
A year after her baby died when the child was thrown from a Porsche during a car crash, a 23-year-old Palm Springs-area woman has been charged with murder.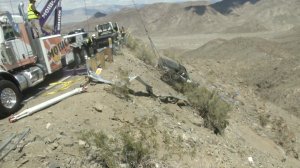 Kristen Leigh Lauer of Rancho Mirage was charged Thursday with murder and felony willful child cruelty, a criminal complaint provided by the Riverside County District Attorney's Office shows. A warrant has been issued for her arrest, but she is not in custody, a DA's spokesman said.
Her 5-month-old daughter, Armani Green, was not properly restrained when the 2015 Porsche coupe lost control and crashed over the side of curving Highway 74, south of Palm Desert, the California Highway Patrol said at the time. The crash occurred May 1, 2016.
The child was not in a car seat inside the sports car, the Desert Sun reported, citing court documents.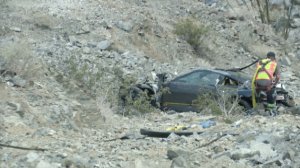 "Lauer willfully placed Armani Green in a place of danger when she made the decision to ride in a two-seat Porsche on SR-74 without taking any precautions for the safety of the 5-month old," stated court documents, according to the Sun.
The baby's father, 52-year-old Marcus Green, was driving and was arrested on the day of the crash. He was charged with murder and other counts several days after the crash.
A preliminary hearing in Marcus Green's case is set for May 26, court records indicate. He is being held in Indio on $1.86 million bail.
Lauer has been a star volleyball player at a Christian school in Bermuda Dunes, east of Palm Springs, according to the Sun. No court date has been scheduled for her.