This is an archived article and the information in the article may be outdated. Please look at the time stamp on the story to see when it was last updated.
A Los Angeles man on Tuesday pleaded not guilty to three felony charges for a fatal crash in Venice last month, officials said.
Benjamin Albert Seider, 23, was allegedly drunk when he ran a red light at the intersection of Washington Boulevard and Ocean Avenue on April 10, striking the vehicle of three firemen from Marietta, Georgia, who were on vacation.
One of the firefighters, Ron Herens, was ejected from the group's Volkswagen and killed while the other two were seriously injured.
The Marietta Police Department identified the wounded firemen as Doug Blanchard and Dillon Guest.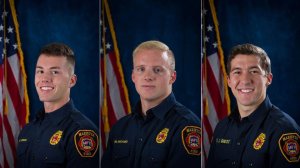 L.A. district attorney's officials charged Seider on Tuesday with one felony count each of gross vehicular manslaughter while intoxicated, driving under the influence of an alcoholic beverage causing injury and driving with a .08 percent blood alcohol content causing injury.
He was also hit with a special allegation that he personally inflicted great bodily injury on the victims, prosecutors said.
Seider is scheduled to return to court June 8.
If convicted as charged, he faces a possible maximum sentence of more than 12 years in state prison, officials said.