This is an archived article and the information in the article may be outdated. Please look at the time stamp on the story to see when it was last updated.
Authorities on Thursday released the name of a man sought in a violent attack at a Harbor City gas station the previous month.
The Los Angeles County Sheriff's Department identified the suspect as 23-year-old Julio Cesar Roman, who remained at large since the June 16 incident.
It happened around 6 a.m. in the 900 block of West Sepulveda Boulevard, according to the agency.
Detectives said Roman made a small purchase before asking to use the restroom. When he came out, Roman asked the clerk, Darlecia D'Andrade, to fix the toilet, the Sheriff's Department said.
Roman allegedly followed D'Andrade into the restroom and started punching her and using an undetermined object to slash her in the face and abdomen.
The victim told KTLA she did not immediately realize that the man was slashing her.
"I started saying 'Why, why, why are you hitting me?'" D'Andrade said. "Blood was just gushing like crazy, and I was just so in shock."
She then called her daughter and the authorities. D'Andrade was treated at a hospital before being released, but she has not been able to return to work since the attack, according to authorities.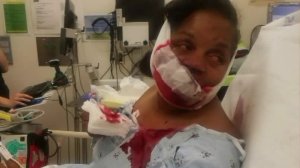 Investigators said the assailant fled in a car southbound on Vermont Avenue.
The motive remained unknown.
The Sheriff's Department described Roman as 5 feet 5 inches tall and around 150 pounds with brown hair and hazel eyes. During the attack, he was wearing a black and green hat that said "I (marijuana leaf) weed," a red t-shirt and black pants, the agency said.
Officials said they have located the red four-door sedan that he drove away in. Roman was known to frequent the San Pedro area, according to the Sheriff's Department.
Anyone with information can call detectives at 310-830-1123. Those who wish to remain anonymous can contact Crime Stoppers by calling 800-222-TIPS (8477), using the mobile app "P3 Tips" or visiting lacrimestoppers.org.
*SUSPECT IDENTIFIED* #LASD Carson Detectives Need Your Help Locating Carson Assault Suspect Julio Cesar Romanhttps://t.co/JcrElPxA3p pic.twitter.com/WSLdyjiNxT

— LA County Sheriffs (@LASDHQ) July 13, 2018