This is an archived article and the information in the article may be outdated. Please look at the time stamp on the story to see when it was last updated.
A 23-year-old woman is mourning the loss of her unborn baby girl and husband after a driver, with two prior DUI convictions, allegedly ran a stop sign in Victorville and crashed into her family's car.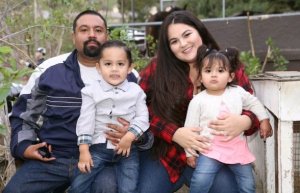 The fatal crash happened about 1:45 a.m. Saturday when a man behind the wheel of a 2002 Hyundai sedan was driving north on Amethyst Road and allegedly failed to stop at a stop sign. The driver, 56-year-old Alexander Delapaz-Perez, broadsided the driver's side door of a 2015 Honda Accord that was traveling west on Mojave Drive, the San Bernardino County Sheriff's Department said in a news release.
Angel Barranco, 35, of Adelanto was driving the Honda Accord with his wife, who was 7-months pregnant, and his mother-in-law in the car.
Barranco was taken to a local hospital where he later died from his injuries.
His wife, Barbara Velasco, was taken to a local hospital with major injuries. Family members told KTLA Velasco's unborn baby girl, who was due in two months, did not survive.
Velasco's mother, Monica Alarcon, 42, also suffered major injuries in the crash and was taken to a local hospital.
Velasco's brother told KTLA the young mother and widow is devastated.
"My son-in-law didn't deserve this. He was a great person, and my little granddaughter that's not with us. They should've been here," Alarcon told KTLA. "He should have never been able to get in that car and drive."
Delapaz-Perez received medical treatment for minor injuries and was later booked for gross vehicular manslaughter while intoxicated and driving under the influence causing great bodily injury, sheriff's officials said. Police said Delapaz-Perez has two prior DUI convictions.
Sheriff's inmate records listed the driver as Alexander De La Paz, with Alexander Perez Delapaz as an alias. He was due in court Tuesday.
The deadly crash remains under investigation.
Barranco and Velasco have two young children together. Family members have created a GoFundMe page to help with funeral expenses and medical bills.
Anyone with information about the crash is asked to call Deputy Alejandro Ramos at the Victorville Police Station at 760-241-2911.