This is an archived article and the information in the article may be outdated. Please look at the time stamp on the story to see when it was last updated.
A $25,000 reward has been offered for information in the fatal assault and robbery of an 85-year-old Korean War veteran in Carson, Los Angeles County Sheriff's Department officials announced Wednesday.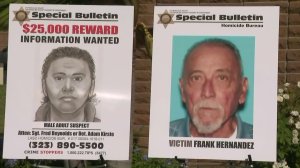 Frank Hernandez went on his daily walk to buy lottery tickets on May 31, when he was attacked from behind and hit on the head. The assailant robbed took money out of Hernandez's wallet once the victim hit the ground and then tried to rob another person nearby and ran from the area, officials said,
Hernandez succumbed to his injuries and died on June 7.
He had four children and nine grandchildren.
Hernandez's wife of 60 years, Lucy, pleaded with the community Wednesday to help find the killer.
"We need your help, and we need it badly," she said.  "Let's not let this guy go out and hurt somebody else, someone you love, like we loved our papa."
Hernandez's youngest son, Steven, said that his father felt safe in the neighborhood that was his home for almost 60 years.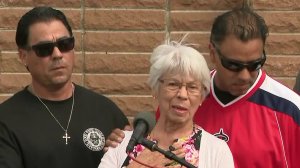 "Someone took that from him and us," Steve Hernandez said.
He described his father as being "proud" Navy veteran.
Carson Mayor Albert Robles said the entire community mourns with the Hernandez family and joins them in seeking justice.
The second victim and witness was able to provide authorities with details of the assailant that led to a composite sketch.
The man is described as a Hispanic man in his 20s with a light complexion and short curly hair. He was wearing a gray hooded sweatshirt, dark shorts and a dark baseball cap.
Anyone with information about the incident can call the sheriff's department homicide bureau at 323-890-5500.