This is an archived article and the information in the article may be outdated. Please look at the time stamp on the story to see when it was last updated.
The Los Angeles County Board of Supervisors voted on Tuesday to offer a $25,000 reward for information about chemical attacks on several dogs that left two of them dead in the Antelope Valley.
Mayor Michael D. Antonovich, who represents the county's Fifth District, took to Twitter early Tuesday afternoon to announce that the board had approved his motion to offer the reward in the "heinous" cases.
Between July 20 and Aug. 20, at least seven dogs — six pit bulls and a golden retriever — have been found with burn injuries, according to a news release from the Los Angeles County Sheriff's Department. The cases occurred in the Antelope Valley and Kern County, and there could be additional ones that have not been reported.
The news release also included a photograph of a Cavalier King Charles spaniel that appeared to have a burn wounds on its back. Information about the particular case wasn't provided, however, and a phone call to the department has not yet been returned.
At least four of the dogs in the recent series of attacks suffered chemical burns and were brought to the Lancaster Animal Shelter. One of those dogs, a 1- to 2- year old golden retriever nicknamed "Fergus," a 1- to 2-year-old golden retriever was severely injured when someone poured battery acid down his spine.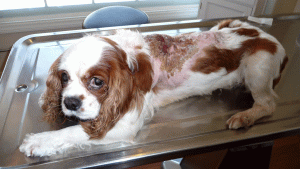 Fergus was treated for third-degree burns, but was expected to completely heal in the coming months.
Another dog, nicknamed "Bella," was found in Palmdale in mid-August and appeared to have been tortured in a similar manner. She survived the attack, but also faced a long and painful road to recovery, veterinarians said.
Two of the other dogs treated at the Lancaster shelter were so badly burned, however, that they had to be euthanized.
Investigators still have not determined whether the cases or linked, or even if they were the result of an intentional criminal act, the news release stated. Authorities and animal care professionals were working to figure out what exact substance caused the wounds.
In addition to the county board, PETA and the Southern California Golden Retriever Rescue have also offered rewards totaling $4,500 in an effort to help catch the person or persons responsible for the brutal assaults.
Anyone with information about the incidents has been encouraged to call Lancaster Sheriff's Station Detective Daniel Gore at 661-940-3851 or 661-948-8466, or the L.A. County Department of Animal Care and Control at 661-974-8096.