This is an archived article and the information in the article may be outdated. Please look at the time stamp on the story to see when it was last updated.
Alongside a private investigator, the family of a 20-year-old missing Glendale woman who vanished without a trace earlier this year pleaded for the public's help on Tuesday, offering a "time-limited" reward of $250,000 in their continuing search.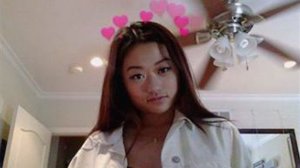 Elaine Park was last seen shortly after 6 a.m. Jan. 28, when she left her ex-boyfriend's home located in the 2600 block of Delphine Lane in Calabasas. The family reported her missing two days later.
On Feb. 2, five days after her disappearance, Park's vehicle — a Honda Civic — was found along the Pacific Coast Highway near Corral Canyon in Malibu, according to a GoFundMe page devoted to finding her. The keys and some of her personal belongings, including a cellphone, purse and laptop computer, were discovered in the car.
Glendale police searched the area, using bloodhounds, but there's been no sign of Park since then.
"It's completely (a) mystery, unimaginable. How can someone just disappear without a trace?" Susan Park, the woman's mother, said at the Tuesday news conference in Los Feliz.
Elaine Park may have been a victim of foul play, according to Jayden Brant, a private investigator working on the case. He said new information has been developed, and the investigation is still very "active."
"Sometimes it's hard to believe this has really happened. I cannot believe this," Susan Park said. "Elaine, I can't imagine what happened to you and I'm devastated that I wasn't there the moment you needed me the most."
The family has offered a "time-limited" $250,000 cash reward in the case as they seek the public's help in locating Park; the reward is good until Sept. 15, nine days before the missing woman's 21st birthday. Relatives told KTLA those were the stipulations given to them by the donors.
"She's out there somewhere," said Rosemarie Wheeler, a family friend who set up a Facebook page devoted to helping find Park. "Someone knows something. And we're not going to stop until we find her."
The family specifically wants to hear from anyone who may have seen or has knowledge of Park's whereabouts, or those who have footage of vehicles parked in the area of the 26000 block of Pacific Coast Highway between Jan. 28 and Feb. 2, according to a news release posted to the page.
"I am pleading for the public's help. All we want to do is find Elaine, nothing else. I will never give up hope," Susan Park said. "I pray that someone will come forward and bring my daughter home."
Park is described as a thin, Korean-American woman, standing about 5 feet 6 inches tall and weighing around 125 pounds. She has long brown hair with blonde tips and brown eyes, as is known to wear heavy mascara and make up, according to Glendale police.
She was last seen wearing jean shorts and a jacket.
Anyone with information is urged to call 800-551-3080 or visit the website elainepark.tips.