This is an archived article and the information in the article may be outdated. Please look at the time stamp on the story to see when it was last updated.
A $25,000 reward is being offered for information leading to the arrest of a man wanted in connection with multiple armed sexual assaults reported in Los Angeles, according to the FBI.
The suspect was identified as Greg Alyn Carlson, who is originally from the Washington, D.C. area and has lived in Santa Monica, a news release stated.
On Sept. 3, 2017, the Los Angeles Police Department arrested Carlson on suspicion of assault with intent to commit rape, burglary and assault with a deadly weapon, authorities stated. He posted bond 23 days later and was released, officials said.
Carlson fled to a family home in Mount Pleasant, South Carolina, and later took off with a stolen handgun, rental car and a large amount of cash, the FBI stated. He has indicated that he will not return to L.A. to face prosecution, authorities said.
Carlson allegedly fled the state in the stolen rental car and was seen in Hoover, Alabama, on Nov. 22, 2017, the news release read. When police attempted to stop him, the attacker allegedly led them on an erratic, high-speed chase that was terminated by authorities due to the danger to the public, according to the statement.
He was then reportedly seen in Florida. First he was spotted in Jacksonville on Nov. 28, 2017, and then in Daytona Beach two days later, the FBI stated.
Carlson has been linked to at least four vicious attacks, officials said. FBI Special Agent Scott Garriola told KTLA that the suspect would assault his victims with handguns and knives, and would even bind them. He added that several victims were able to fight back and get away.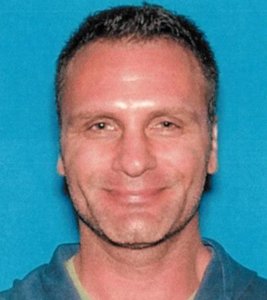 L.A. County Superior Court issued a local arrest warrant for Carlson, charging him with one count of assault with intent to commit rape, the news release read. A federal arrest warrant was also issued, charging him with unlawful flight to avoid prosecution, according to the statement.
He may be in possession of a stolen pistol and could possibly be traveling in a stolen white, four-door, 2017 Hyundai Accent rental car with South Carolina license plate NKI-770, officials said.
Carlson is considered armed and dangerous, and he uses the aliases Greg A. Carlson and Greg Alym Carlson, according to the FBI. He was described as a white man, approximately 46 years old, standing 5 feet 11 inches tall, weighing 170 pounds, with brown hair and green eyes, the news release read.
Anyone who may have been victimized by the suspect but did not report it at the time was urged to do so by contacting the LAPD's Robbery-Homicide Division at 213-486-6910.
Tipsters with information on Carlson's whereabouts were asked to contact the FBI's L.A. field office at 888-226-8443.