This is an archived article and the information in the article may be outdated. Please look at the time stamp on the story to see when it was last updated.
A woman who was found dead in a trash dumpster was identified Thursday morning as a 28-year-old West Hollywood resident.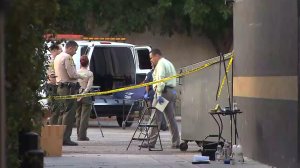 Joie Kinney's body was discovered shortly before noon Wednesday in the 8700 block of Beverly Boulevard in West Hollywood, according to the Los Angeles County coroner's office.
There were no obvious signs of blunt force trauma to Kinney, a news release from the L.A County Sheriff's Department stated.
A cause of death for the West Hollywood resident has yet to be determined, but her death has been deemed "suspicious," according to the release.
Investigators found Kinney's body in the trash bin after someone walked into the West Hollywood sheriff's station to report a deceased person in the area, said sheriff's homicide Sgt. Marcelo Quintero.
The dumpster where Kinney was discovered is at the location of the former Jerry's Famous Deli, which closed in 2013. The site, which is vacant and under construction, is within walking distance of Cedars Sinai Medical Center and the Beverly Center shopping mall.
A nearby business owner who asked to remain anonymous said he noticed someone had taken his trash out of the dumpster the day before the woman's body was discovered.
"As we were closing, I had to throw the trash away. And then we saw a bunch of boxes on the side that we already threw away," he said.
The man added they thought it was "kind of bizarre."
Jose Ramirez, who works in the neighborhood, told KTLA the back of the former restaurant is frequented by transients.
"There's a … little enclosed area, and it has benches and everything, so that's where they hang out," he said.
Investigators initially stated that they believed the victim lived in the area, but they were unsure whether she was a transient.
Homicide detectives are continuing their investigation into the case.
Anyone with information about the woman's death is asked to call the department's Homicide Bureau at 323-890-5500.
Anonymous tips can also be left through Crime Stoppers by dialing 800-222-8477, texting the letters TIPLA plus a tip to 274637, or by using the website http://lacrimestoppers.org.