This is an archived article and the information in the article may be outdated. Please look at the time stamp on the story to see when it was last updated.
Firefighters battled a second-alarm blaze at a strip mall in Pico Rivera early Tuesday morning, according to Los Angeles County Fire Department officials.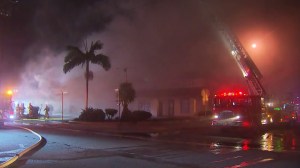 The fire erupted at a building in the 9000 block of Beverly Boulevard, county officials said around 5 a.m. It was knocked down at 6:12 a.m.
About 100 firefighters responded to the scene, and no injuries were reported.
The strip mall was located near a Norms Restaurant and included a Domino's Pizza, nail salon, and laundry facility, among other businesses.
It was not known which of the businesses, if any, were damaged.
The cause of the fire was under investigation.
Los Angeles County Sheriff's Department officials were aiding with traffic control at the scene.
Pico Rivera: fire at a strip mall south of Norm's, @MarkKonoSky5 is over it, Beverly B is OPEN, Rosemead B is closed SOUTH fr Beverly B-Rd

— Ginger Chan KTLA (@ktlagingerchan) October 6, 2015