This is an archived article and the information in the article may be outdated. Please look at the time stamp on the story to see when it was last updated.
An individual who visited Yosemite National Park from Georgia is believed to be suffering from the second case of plague diagnosed in less than a month, California Department of Public Health announced Tuesday.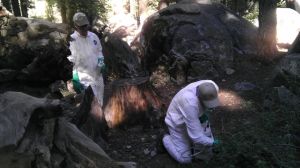 The "presumptive positive case" of plague occurred in a patient who visited Yosemite, the nearby Sierra National Forest and surrounding areas in early August, according a statement from the department.
The federal Centers for Disease Control and Prevention was testing the person, whose gender and age were not described.
After a child from Los Angeles County was diagnosed with plague earlier this month following a Yosemite visit in July, the park closed two campgrounds.
Two squirrels that had died from the plague were found at the second campground to be closed, Tuolumne Meadows, the park said last week. The child had camped at the other campground, Crane Flat, which is some 40 miles from Tuolumne Meadows. Infected rodents were also found at Crane Flat, according to the state public health department.
Crane Flat reopened last week; Tuolumne Meadows Campground is closed this week.
Plague is typically contracted from the bite of an infected flea, which may in turn infect rodents such as squirrels and chipmunks. Fleas from infected rodents can carry the infection to humans.
The risk to human health remains low, state officials said. Though the disease killed millions of people centuries ago, the bacterial infection can be treated with modern antibiotics.
The most recent case of human plague in the state prior to this summer was in 2006.
More information about plague can be found at the CDPH website.
[protected-iframe id="b30140da320f8071551c8035117ee6fb-41641936-54452678″ info="http://cdphgis.maps.arcgis.com/apps/ImpactSummary/index.html?appid=358951fe9bd546d6954c3f1a1078a4bd" width="100%" height="640px" frameborder="0″ scrolling="no"]