This is an archived article and the information in the article may be outdated. Please look at the time stamp on the story to see when it was last updated.
Authorities on Friday released a photo of a man wanted in connection with a suspected street-racing crash in Rancho Cucamonga that left a father of two dead.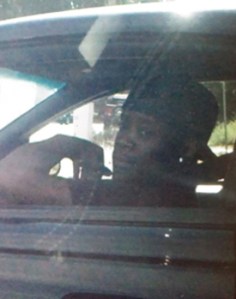 A 16-year-old driver of a Ford Mustang was in custody and facing possible manslaughter charges for alleged involvement in the collision, according to the Rancho Cucamonga Police Department.
The driver of a second Mustang, which investigators believed was racing the other vehicle, remained at large Friday.
That man was described as black, 20 to 25 years old, 6 feet tall, weighing 180 pounds, with black hair and brown eyes, the San Bernardino County Sheriff's Department said in a news release, which included a photo of the driver being sought. The image shows him wearing a backward baseball cap and diamond stud earring in his left ear.
The search stemmed from a dramatic collision that occurred about 4:15 Thursday at the intersection of Rochester Avenue and Jersey Boulevard.
According to accounts given to investigators by witnesses, two black Mustangs were racing southbound on Rochester Avenue when of the cars struck the driver's side of a 2010 Nissan Altima that was attempting to make a left turn from New Jersey Boulevard.
The colliding Ford and Nissan came to a stop at a corner of the intersection, the Sheriff's Department said.
The latter vehicle sustained damaged into the passenger compartment. Its driver, 46-year-old Julio C. Lopez, was transported to a hospital where he died.