This is an archived article and the information in the article may be outdated. Please look at the time stamp on the story to see when it was last updated.
A brand new boat caught fire off the coast of Malibu Saturday night, prompting a rescue, authorities said.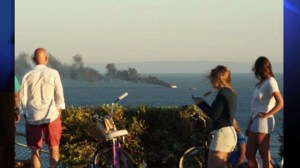 The blaze broke out on the 40-foot-yacht around 7 p.m., according to the U.S. Coast Guard. The boat eventually sank.
"The fire went off and within like five minutes it just started going," said Kevin Villalobos, who partially owned the boat. "It didn't give us enough time. Fire extinguisher wasn't enough, so we had to make our move."
Three adults and a child who were on board managed to get into a lifeboat and were able to escape the burning yacht.
"We had four of us on board, my friend's child — we put the life jacket on him – hit our raft, and there it was," Villalobos said.
A nearby research vessel later came in and rescued the four passengers.
No injuries were reported.
It was not immediately clear what caused the fire.