This is an archived article and the information in the article may be outdated. Please look at the time stamp on the story to see when it was last updated.
A 516-acre brush fire in Calabasas was 15 percent contained late Saturday evening, hours after firefighters extinguished a much smaller blaze in nearby West Hills, officials said.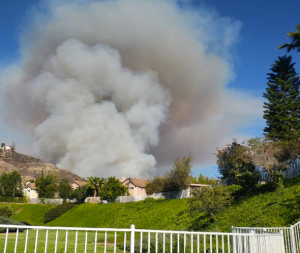 The ongoing Old Fire began shortly after 4 p.m. when a vehicle slammed into a power pole in the 2300 block of Mulholland Highway and toppled multiple electrical lines, said Melanie Flores, a Los Angeles County Fire Department supervisor.
Emergency responders set up a command post at Calabasas High School as flames burned on an adjacent hillside.
Four hundred firefighters — from the fire departments of Los Angeles and Ventura counties, the city of Los Angeles and Cal Fire — were in the fire zone by Saturday night.
Some 100-200 people were initially evacuated from homes along Eddingham and Adamsville avenues, and from the Calabasas Highlands neighborhood, according to Deputy Ryan Rouzan of the Los Angeles County Sheriff's Department. By midnight, the number of evacuees had skyrocketed to 5,000.
"We're proud of the people in Calabasas for having good brush clearance" around their homes, said Inspector Rich Licon of the L.A. County Fire Department. "They inhabit a defensible space for us to work with, which has helped us out a lot."
.@LACoFireAirOps hard at work in Calabasas. pic.twitter.com/9A88cqkBJ8

— Ross Feinstein (@RossFeinstein) June 5, 2016
Mandatory evacuations were ordered for four so-called "tactical zones" in the area, officials said, while voluntary evacuations were taking place in two other zones.
An evacuation center for residents was established at Agoura High School in Agoura Hills (map). Displaced horses and other large animals were being housed at Pierce College in Woodland Hills (map), while smaller animals could be taken to the Agoura Animal Care Center (map).
Several homes were damaged by the fire, Flores said, though she was unable to specify how many.
Capt. Keith Mora, a Fire Department spokesman, said the blaze was threatening about 3,000 homes. It was 15 percent contained as of 10:30 p.m., according to the captain.
One firefighter was transported to a hospital after sustaining minor injuries, Mora said.
Three of the Fire Department's helicopters conducted water drops throughout the afternoon and into the evening. Two of those helicopters were Firehawks capable of dumping 1,000 gallons of water at a time, the agency said on Twitter. Additional aircraft were requested from Cal Fire and the LAFD.
In West Hills, 116 firefighters responded to the 2-acre Valley Circle Fire, which started just before 4:30 p.m. and was knocked down in less than two hours, according to the LAFD.
Light winds had pushed flames downhill into a ravine, possibly threatening homes in that area, officials said in a preliminary news alert.
No one was injured in that incident.
More #oldfire video in #calabasas pic.twitter.com/FabjMxyzhj

— Michael Coons (@Michael_Coons) June 5, 2016
Fire has consumed a whole hillside in Calabasas, @LACoFireAirOps dropping water pic.twitter.com/UcyHSDK0B9

— Javin Reid (@JavinReid) June 4, 2016
2 of the helicopters working the #OldFire are Firehawks capable of up to 1000 gallons per drop (📷@L2_Digital) pic.twitter.com/0K0ckxmH21

— LACoFireAirOps (@LACoFireAirOps) June 4, 2016
CALABASAS ON FIRE pic.twitter.com/XJJS4v4Z9t

— Dylan Bender (@DylanBender_) June 4, 2016
Fire in Calabasas pic.twitter.com/a7zV18prQ2

— Andy Nguyen (@Andy_Truc) June 5, 2016
@LACoFireAirOps Firehawk helicopter makes precision water drop on the #OldFire in Calabasas, CA (📷@mattjaffewriter) pic.twitter.com/s78t9Rs4FT

— LACoFireAirOps (@LACoFireAirOps) June 5, 2016
Calabasas is on fire pic.twitter.com/KgL4lyk7PQ

— alexa tabakian (@alexatabakian) June 4, 2016
The #Kardashian hood is on fire right now. #socalfires #calabasas #ca #fire pic.twitter.com/coyWoJUYKt

— Maria Nikolis (@maria_nikolis) June 4, 2016