This is an archived article and the information in the article may be outdated. Please look at the time stamp on the story to see when it was last updated.
SANTA MONICA, Calif. (KTLA) — Two suspected gang members were charged with murder and a third man was charged with being an accessory in connection with a shooting near Santa Monica College, the Los Angeles District Attorney's Office announced Thursday.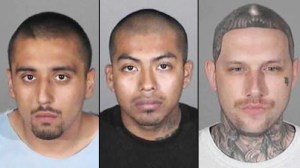 Christopher Osumi, 19, Meliton Lopez, 23, and Noah Farris, 32, were scheduled to be arraigned at Los Angeles Superior Court Thursday.
Around 8:15 a.m. Tuesday, Osumi allegedly used a handgun to open fire on two men standing in the 1500 block of Michigan Avenue, shooting both victims multiple times, according to a press release from the DA's office.
Santa Monica resident Gil Verastegui, 29, later died.
The second victim remained hospitalized.
Osumi and Lopez were each charged with murder and attempted murder with gang allegations.
Farris was charged with being an accessory.
The incident followed a shooting rampage in Santa Monica on Friday that left six people dead, including the gunman.
There was no indication that the two incidents were related, police said.