This is an archived article and the information in the article may be outdated. Please look at the time stamp on the story to see when it was last updated.
Three alleged gang members have been charged in connection with the shooting death of a 19-year-old Marine who was on leave from Camp Pendleton when he was killed in South Los Angeles, the District Attorney's Office reported.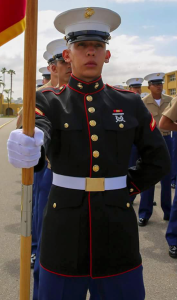 Oscar Aguilar, 26, faces one count of murder, possession of a firearm by a convicted felon and dissuading a witness by force of threat,  Esau Rios, 28, faces one count of murder, and Ricky Valente, 18,  faces one count of accessory after the fact, having knowledge of the murder, the DA's office said in a news release on Tuesday.
The charges stem from the Sept. 16 death of Lance Cpl. Carlos Segovia.
According to investigators, Segovia was sitting in his car outside of his girlfriend's house near 31st Street and Western Avenue in Jefferson Park around 11 p.m. on the night of the shooting, when he allegedly exchanged words with the suspects and was shot.
Segovia was rushed to a local hospital and died three days later, prosecutors said.
Family and friends said Segovia was an active volunteer in his community, helped the homeless and encouraged at-risk youth to join the Marines.
If convicted as charged, Aguilar faces a possible maximum sentence of 167 years to life in state prison, Rios faces 50 years to life and Valente faces 7 years in state prison .
The three suspects were scheduled to be arraigned Tuesday afternoon.