This is an archived article and the information in the article may be outdated. Please look at the time stamp on the story to see when it was last updated.
Thirteen men and a male juvenile were arrested after a panga boat carrying 2,000 pounds of pot landed on the northern Ventura County coast early Wednesday morning, according to the Sheriff's Office.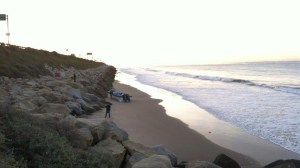 A sheriff's deputy potted the boat about 3 a.m. in a remote area called Rincon Beach, near the border of Ventura and Santa Barbara counties.
When the deputy drove up, bales of marijuana had already been removed from the boat and were being loaded into a recreational vehicle, according to the Ventura County Sheriff's Office.
Those at the scene scattered upon seeing the patrol car. Several hours later, three people had been arrested and a perimeter had been set up as the investigation was handed over to federal officials, county authorities said Wednesday morning.
Just before 5 p.m., the Sheriff's Office announced that 14 men were in custody, including a male juvenile. Officers searched on the ground with dogs and from the air in two helicopters to find the suspects.
"Roughly half the group is claiming United States citizenship, while the rest are undocumented," an sheriff's updated news release stated.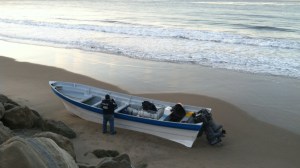 The boat and RV were seized and the investigation is being handled by Sheriff's Office. Federal agents were also continuing to investigate for possible federal crimes.
The Santa Barbara County Sheriff's Office, the California Highway Patrol, federal border patrol agents and the U.S. Coast Guard all responded to the incident, sheriff's Sgt. Rob Davidson had said.