This is an archived article and the information in the article may be outdated. Please look at the time stamp on the story to see when it was last updated.
Three individuals were eventually arrested after around 50 officers were called in to subdue a "riot" of at least 100 people that erupted at a Costa Mesa skate park on Sunday, police said.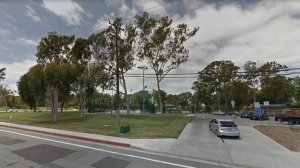 An officer was sent to the Volcom Skate Park at 900 Arlington Drive shortly after 8 p.m. after law enforcement received reports indicating dozens of individuals were vandalizing the park with spray paint, the Costa Mesa Police Department said in a statement.
The park has now been closed indefinitely as city officials work to clean up an estimated $3,000 worth of graffiti damage caused by the rioters, according to police.
The first officer who arrived at the scene was swiftly surrounded by a group of between 100 and 200 people and felt threatened, officials said.
"Numerous subjects challenged the officer's authority, yelled profanities and banged their skateboards on the ground angrily," the release states.
The officer immediately requested reinforcement from Orange County sheriff's deputies, who were stationed nearby at the Orange County Fair, due to the crowd's size and demeanor.
Ultimately, the multi-agency response involved about 50 officers with the Huntington Beach Police's helicopter assisting with crowd control, officials said.
The majority of the unruly crowd dispersed after about 30 minutes, according to police, though two men and a juvenile were arrested after refusing to cooperate with law enforcement.
Costa Mesa resident Josue D. Rivera, 22, was resisting arrest, and authorities used a stun gun to detain him, police said. He was taken into custody on suspicion of refusing to disperse, resisting and obstructing police and threatening language and is being held on $1,000.
A 21-year-old Costa Mesa resident, Jovanovic I. Alexander, was also arrested on suspicion of refusing to disperse and resisting police. His bail has been set at $500.
The 17-year-old juvenile was allegedly involved in fueling the riot and was detained on suspicion of vandalism, refusing to disperse, threatening language and instigating a riot. He was booked at Orange County Juvenile Hall, authorities said.
Police were told the group had originally gathered to hold an impromptu memorial for a friend who died recently.