This is an archived article and the information in the article may be outdated. Please look at the time stamp on the story to see when it was last updated.
A woman and two men were arrested Thursday after police earlier in the week released video in an attempt to identify a man who brutally attacked another man with a beer mug at a bar in Covina.
The incident occurred on Aug. 17 after the victim and assailant had finished a game of pool at Clancy's Sports Bar, located at 961 N. Azusa Ave., according to the Covina Police Department.
Shortly before midnight, the attacker followed the victim into the bathroom, where he hit the man over the head with a glass mug. The victim, a 45-year-old Rancho Cucamonga resident, was left unconscious and with a fractured skull, Sgt. Keith Sutherland said.
A motive for the assault is unclear.
Police on Tuesday released video showing the suspect entering the bathroom in hopes of identifying him.
The footage also shows the man depositing a beer mug by the bathroom door as he exits. He and a woman then left the establishment in a silver vehicle with paper license plates, police said.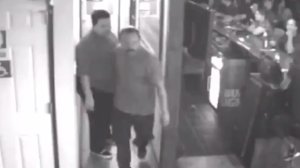 The video's release led investigators to receive several tips, which allowed them to identify three people involved, officials said.
According to police, two of those arrested are seen in the video, while the third was also inside the bar at the time "without incident."
The three in custody are:
• Vidal Larios, 40, of Glendale
• Angel Franco, 23, of Baldwin Park
• Elizabeth Franco, 40, of Baldwin Park
Officials did not clarify the role they are suspected of playing. However, the assailant was previously described as a Latino man about 40 years old and with a mustache.
All three were being held on suspicion of battery with serious bodily injury and assault with a deadly weapon, while Larios was also being held on a parole violation, police said.
Anyone with further information can contact Detective Ostarcevic at 626-384-5620, referencing incident No. 18-23973.