This is an archived article and the information in the article may be outdated. Please look at the time stamp on the story to see when it was last updated.
Three people who were trying to leave an evacuated home in the Blue Cut Fire area with a flatbed truck were arrested Thursday on suspicion of looting, the San Bernardino County Sheriff's Department said.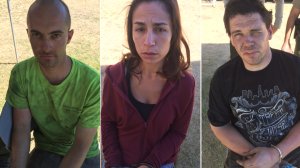 The trio were discovered about 7 a.m. at a home in the 8600 block of Swarthout Canyon Road, which has been evacuated shortly after the fire started nearby in the Cajon Pass about 10:30 a.m. Tuesday.
The blaze has burned nearly 36,000 acres by Thursday and prompted the evacuation of some 34,500 homes.
Daniel Mervine, 27, of Jurupa, Natasha Rovinsky, 27, of Diamond Bar, and Trevor Sanchez, 29, of Riverside were taken into custody, a Sheriff's Department news release stated.
The group was trying to leave the home with a flatbed truck, and they told deputies they were picking up property for a friend who lives there, the release said. Deputies contacted the home's owner, who said he hadn't given anyone permission to take his property.
It wasn't clear exactly what items the trio was allegedly trying to steal from the home.
They were being held on suspicion of looting and grand theft auto.
No jail record was available early Thursday evening for Mervine or Rovinsky, but Sanchez's record indicated he was being held at West Valley Detention Center in Rancho Cucamonga and was due in court in San Bernardino on Monday.