This is an archived article and the information in the article may be outdated. Please look at the time stamp on the story to see when it was last updated.
Three big rigs were involved in a collision on the 710 Freeway in Long Beach early Wednesday morning, which prompted an hourslong shut down of all southbound lanes.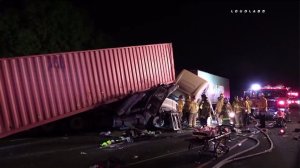 The crash occurred about 12:30 a.m. just north of the Willow Street off-ramp, said Public Information Officer Jake Heflin with the Long Beach Fire Department.
The big rigs collided when one of the trucks had apparently stopped due to heavy traffic and the other two trucks could not slow down in time, said Sgt. Chad New with the California Highway Patrol.
Two of the big rig drivers became trapped and needed to be extricated following the crash, New said.
One of the drivers was in critical condition and the other was in serious condition, New said.
The driver of the third big rig was not injured, New said.
Officials shut down the southbound lanes while crews worked to remove the big rigs from the freeway and clean up oil and fuel, which had spilled onto the roadway.
Speed was being investigated as a possible factor in the crash, New said.
No passenger vehicles were involved in the incident.
At 7:26 a.m., the CHP tweeted that the freeway had reopened.
SIGALERT CANCELLATION IN LONG BEACH: S/B I-710 AT I-405 ALL LANES OPEN

— CHP PIO – LA County (@CHPsouthern) August 24, 2016