This is an archived article and the information in the article may be outdated. Please look at the time stamp on the story to see when it was last updated.
The bodies of three people were found dead inside a burning SUV in a residential area of the city of Orange on Monday afternoon, authorities said.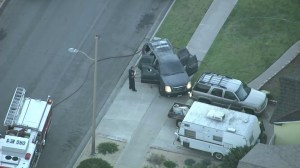 The bodies were discovered after city police and firefighters were called to the 500 block of East Oakmont Avenue at 2:18 p.m. to a report of a car on fire, according to Sgt. Phil McMullin of the Orange Police Department.
Three individuals — whose age and gender were not known — were found after the flames were extinguished, McMullin said.
There was initially some confusion over the number of victims, but the coroner's office finally confirmed there were three bodies in the vehicle.
Investigators were trying to determine how the vehicle caught on fire.
"It's very early in the investigation. I don't want to say we don't have a clue, but … we don't know how the people inside the vehicle perished," said police Lt. Fred Lopez on scene. "We don't know where the fire fits in to all of this — if it was as a result of the accident, or it was an intentional act."
Investigators were canvassing the neighborhood looking for witness and surveillance video that may help them piece together what happened.
Aerial video from Sky5 showed a black GMC SUV stopped partly on the lawn and driveway of a home. All the doors were open and the charred vehicle's windows were smashed.
The address where the bodies were found is in a block adjacent to Orange High School.
A large perimeter was set up during the investigation, creating trouble for some residents trying to get to their homes.
KTLA's Nidia Becerra contributed to this article.
More video: