This is an archived article and the information in the article may be outdated. Please look at the time stamp on the story to see when it was last updated.
Multiple people, including children under the age of 10, were rushed to the hospital after a crash at the end of a pursuit in South Los Angeles on Tuesday afternoon, fire and police officials said.
The collision occurred just before 2 p.m. in the 1300 block of West 59th Place, in the Vermont-Slauson neighborhood, according to a Los Angeles Fire Department alert.
The incident unfolded after a traffic stop was conducted by Los Angeles Police Department officers.
Police had stopped a vehicle when a man with a gun got out and ran, according to LAPD spokesman Officer Tony Im. Officers were chasing the armed individual on foot when a second vehicle stopped for him and he jumped in.
The second vehicle traveled down the street, where it struck another, uninvolved car occupied by an adult and two children, Im said. All three of the occupants of that third vehicle were critically injured, according to Im.
Meanwhile, three men got out of the now-crashed second car and ran, Im said. Two got away but one of them was taken into custody.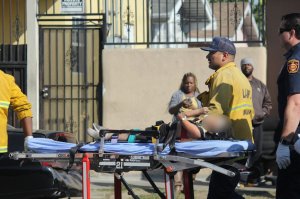 LAFD said it transported four trauma patients to a local hospital. All are in unknown condition, though their injuries are not believed to be life-threatening, the agency said.
It was not immediately clear why the Fire Department reported four victims but LAPD described only three.
Photos taken at the scene by a witness and provided to KTLA showed debris strewn across an intersection at Normandie Avenue, with many police and fire vehicles responding. As passersby gathered to watch, paramedics treated at least two children, who could be seen on stretchers and in neck braces.
A black Nissan with severe damage to its passenger side was left with its airbags deployed.
KTLA's Nidia Becerra contributed to this article.