This is an archived article and the information in the article may be outdated. Please look at the time stamp on the story to see when it was last updated.
Authorities are investigating whether alcohol played a role in a solo-vehicle crash in Oxnard that left three people dead and three others injured early Wednesday.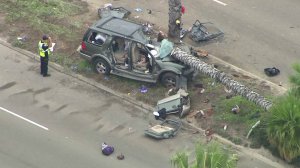 The SUV was headed southbound on Harbor Boulevard near Wooley Road around 4:25 a.m. when the driver lost control of the vehicle, crashed into the center divider and struck a palm tree, according to Oxnard Fire Department public information officer Melissa Valdez.
Six people were in the green SUV at the time of the crash, she said.
Two people were pronounced dead at the scene, according to Valdez. A third died at the hospital.
Authorities have not released the names of any of the deceased. The Ventura County Star reported that the victims were one male and two females.
Three other occupants — a male and two females — were injured in the crash, including one person in critical condition, Valdez said.
The Star described all six occupants as young adults; their ages were not immediately given.
It was not immediately known what caused the driver to lose control, but alcohol was a possible factor, according to Valdez.
A stretch of Harbor remained closed in both direction around 10 a.m., more than five hours after the incident, Sky5 aerial video showed. It was not immediately known when the road would reopen.
No additional information has been released about the triple fatal crash, which remains under investigation.
KTLA's Steve Bien contributed to this story.