This is an archived article and the information in the article may be outdated. Please look at the time stamp on the story to see when it was last updated.
A young husband and wife, and a grandmother visiting family in Southern California from Mexico, have been identified as the three victims who were killed in a crash when another vehicle ran a red light and slammed into their car in Lancaster midday Thursday.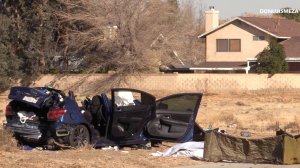 The collision occurred about noon near the intersection of Avenue J-8 and Challenger Way, according to a news release from the Los Angeles County Sheriff's Department.
A silver four-door sedan was traveling eastbound on Avenue J-8 when the vehicle ran a red light and collided with a blue four-door sedan heading north on Challenger, according to sheriff's Detective Ryan Bodily.
The heavily damaged blue car landed in a dirt field adjacent to the intersection, and its top was completely off, news photographer video from the scene showed. It was unclear whether the top was sheared off in the crash, or if first responders cut it off to remove the occupants.
Three people from that vehicle — a man and two women — were killed in the collision, sheriff's officials said.
Bodily identified the victims as a husband and wife, both in their 20s, and a grandmother who was in her early 60s; he did not provide their names.
Family members told investigators the grandmother, from Mexico City, was visiting relatives for the holidays and was planning to go home this weekend, the detective said.
The four occupants of the silver car, all young men, were taken to a local hospital and treated for unknown injuries; they are expected to survive, according to the release.
In the aftermath of the crash, a body covered in a sheet could be seen near the blue car, the video showed. Debris from both cars littered the dirt lot and the street, which was cordoned off with yellow tape as sheriff's personnel investigated.
The Sheriff's Department initially said that alcohol or drugs did not appear to be a factor, but Bodily said in an interview later that "all aspects of the collision are under investigation, including the speed of the vehicle that ran the red light and any intoxication of the drivers."
Anyone with information is asked to call Detective Borruel or Detective Bodily of the Lancaster Station Traffic Detail at 661-948-8466. Anonymous tips can also be left by calling Crime Stoppers at 800-222-8477, or by visiting lacrimestoppers.org.