This is an archived article and the information in the article may be outdated. Please look at the time stamp on the story to see when it was last updated.
Authorities on Saturday were investigating the cause of a fiery crash in Palmdale that killed one adult and two children, and left two others hospitalized.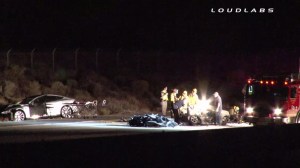 A 2004 Toyota carrying five people was rear-ended by a 2013 Tesla on the southbound side of the Highway 14 near East Avenue S (map) Friday around 10:35 p.m., the California Highway Patrol stated in a news release.
A family was in the  Toyota, which was "rear-ended by a high-speed Tesla," said Capt. Brian Jordan of the Los Angeles County Fire Department.
The Toyota became engulfed in flames, killing a 40-year-old man, 13-year-old boy and 8-year-old boy, according to the CHP. All were Los Angeles residents.
"We ended up with three fatalities. Those three occupants were trapped in the vehicle as it was on fire," CHP Officer Richard said.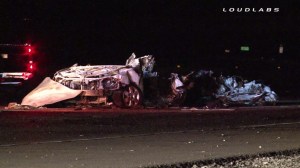 A 6-year-old who suffered burn injuries and was critically injured was airlifted to Children's Hospital Los Angeles.  Thirty-one-year-old Tyree Lavon Nash, of Lancaster, was taken to Antelope Valley Hospital.
The Tesla driver, 28-year-old Ric Garrison, of Newhall, was cleared by emergency personnel at the scene and released, the CHP said.
The roadway way closed and the CHP issued a SigAlert, which was cancelled about 4 a.m.
The man killed in the crash was not immediately identified.
The LAFD had initially said four people were in the Toyota.
KTLA's John A. Moreno and Ashley Soley-Cerro contributed to this report.